We can customize the home screen of our phone with help of various methods, but what about the overall user interface? You shall be having different options to put a stamp on your smartphone with the 8 best Android UI varying from minimalistic skins and launchers to completely transforming the experience.
With this get a complete makeover like changing the look and feel with various icons and themes to adding in new functions like search assistants and smart folders. Android look might be evolving every now and then but don't worry as there is more than one launcher for your android smartphone device.
Reminder: Please take a full backup of your device before proceeding with the below.
8 Best Android UI, Launchers and Skins To Make Your Homescreen Shine
It's all about taste when finding the best user interface but what we suggest is Nova Launcher. It helps to balance features along with customization and is a top choice for all those who intend to put their personal spin on their phone device.
To put prominent notifications on the phone try out the Niagara. If you want minimalistic setups then go for Lean. To put the long story short you shall find a launcher for each and every one on the Google PlayStore.
This makes the top of the list due to its popularity. It is sleek, fast and highly customizable. It has the ability to balance out extensive appearance and utility customizations with minimal performance impact which allows users to set their own home screen too without slowing the phone's performance.
The best thing is that there is too much diversity from color themes to icon packs to scrollable docks to app drawer customizations to folder settings to infinite scrolling. It keeps on adding in new features like Sesame shortcuts, animations and much more needed improvements.
For powerful features choose Nova Prime. This version costs around $4.9 and offers a lot more than only a free download.
RECOMMENDED: 9 Best Android Phones For Rooting, Mods and Customization.
It has also been a popular choice among users due to its simple flower and favorite grid and sorted application folder. For now, it is the latest version called Smart Launcher 5 which has many new features and refinements.
Its flower grid is still available but it is now being joined by many thought-out layouts which are designed to keep your favorite applications within reach of one hand, though smart search and an intelligently sorted and customizable application drawer make it a lot easier to what user needs either on phone or out in the web. It comes with adaptive icons and colors, widgets that can be resized, and more customizations to round out the package thus making it a great update to the Classic Launcher.
To have access to extra features of the Pro version you need to spend $7 which includes pop-up widgets and expanded gesture controls.
ALSO CHECK: 6 Best Alternative OS To install on your Android.
This one is used to place both your apps and notifications front and center while keeping other distractions to a minimum. On the home, screen notifications are displayed along with spam and persistent notifications are filtered out automatically. With help of the app drawer, we can surface our favorites automatically and also provides alphabetical shortcuts which are quite handy.
With this don't expect any unusual visual frills and options which might expect from many of the third-party launchers. The best thing is that it is updated frequently.
AIO – Information Packed
This one is unique in its own way as it is all about cramming as much information on the mobile screen in a relatively Spartan format.
This displays frequently used applications, system information, calls that are recently received, emails, messages, upcoming calendar events and much more.
Being free, in-app purchases are able to unlock many other features like app icons, widgets support and android notifications in the home screen stream. This might not be the friendliest interface but is quite an interesting choice if the information is not turned off for you.
Action – Be a pixel
This was the only one among the first of the big launchers to give itself a Pixel-style makeover. It combines customizability with new interface features and styles which have been given out with Pixel.
It comes with an adaptive application bar, a Google search bar shaped like a pill and Oreo-style application shortcuts (backward compatible to Android 5). In this users have access to an application library and widgets. Moreover, it provides users with special gestures like covers and shutters which allow for speedy access.
It picks out the dominant colors automatically in the wallpaper and adjusts the app drawer, and search box to match and folder backgrounds.
Hyperion – Inspired by Google
This is a Pixel Launcher given out by the team behind the popular Substratum theming engine which is a highly customizable application with which we can tweak vast settings.
Now it does not only provide users with standard widgets and wallpapers, they can also configure a gamut of settings for folders, themes, animations, transparencies and adaptive icons. The best thing is that many of the features come in free but if you want to unlock launcher-level font changes and custom gestures then it requires an in-application purchase for the pro version.
ALSO CHECK: 12 Best Clone Apps for WhatsApp that work without Ads.
Apex – Fastest animations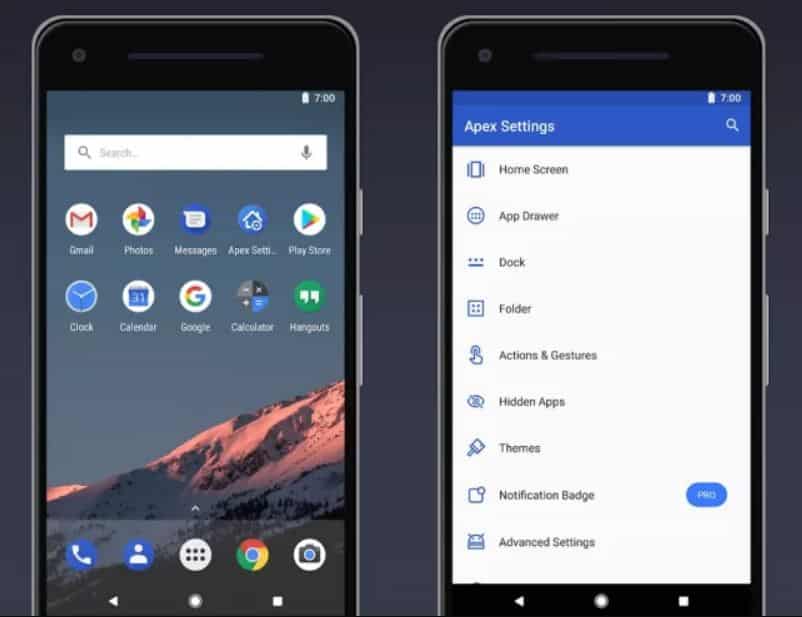 This is yet another great launcher on the list which comes with a good balance of both features and performance.
It has core features which include customization of home screen grid size, up to 9 screens along with a scrollable dock with up to 5 pages. Moreover, it also provides users with infinite scrolling, transition animations, different folder styles and app drawer styles along with great customization.
If you get the paid version then it unlocks many more options like drawer options, additional gestures and theme support. Getting all this is only $8.99.
Arrow was rebranded into Microsoft Launcher, keeping Arrow's compact, context-sensitive application pages as well we customizable feed, not only this but it has been working on improvising interplay between Android phones and Windows PC.
The best thing is that users can take snap photos from the phone and then view them on their desktop, open up web links from their smartphone to Edge on their PC, edit office 365 documents from their system and then continue on their phone.
All this comes in addition to its universal search bar, customizable themes and configurable gesture controls.
ALSO CHECK: Experience Android OS on Windows 11 With Emulators.
Conclusion
Android is known as the most customizable OS around. However, you can even further change it as per your taste. As you are already aware you can change anything your heart desires not like in iOS where you are limited to just the wallpaper, just a joke! Our list includes the top 8 Android UI that you can choose and install on your smartphone.