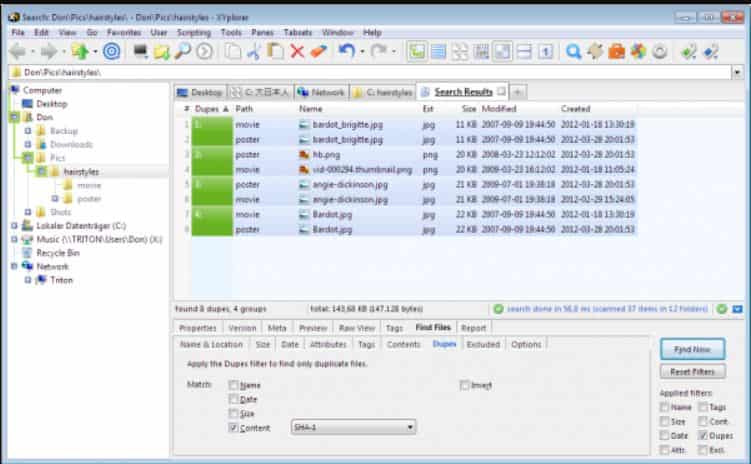 Today each system has some or other problems with disk space. Out of all these duplicate files is another issue in which we have different copies of the same file, it seems to be a problem as they not only clutter the hard drive but also occupy space on this disk. By default, Windows does not have any feature to get rid of these. At times it becomes a challenge to clear all these files. Fortunately, there are some third-party apps that help us to do this. We have compiled for you the 10 best duplicate file finders for Windows 11.
When you are looking for these in the system then make sure to limit your search towards user folders and not clean up from the OS folders as they might have a negative impact on the stability and working of your system.
List Top 10 Best Duplicate File Finders For Windows 11 (Free)
XYPlorer – With the built-in file manager
This is a capable dual-pane file manager which carries a dupes feature. It lies there within the "find files" feature where there is an option to single out duplicates in the search location. This one is suggested due to how it approaches as it lists them by their name, modified date, content as well as size plus how it finds them all in a group so they can be easily cleaned. For content, use MD5 and even do a byte-by-byte comparison which is slow but quite an accurate method.
It is paid and costs around $39.95 for one user license. It has a free trial as well but it is not in use since 2017 with some search, you can find it without any updates.
DupeGuru – Supports all file formats
This is the best one on the list as it is used not only on windows but on macOS and Linux as well. It comes with the best matching algorithm which is used to look out for filenames, attributes, tags, and metadata as well also analyzes content within the file.
It is best with music files as well and carries a unique music code where one can scan songs in FLAC, MP3, WAV, AAC and many other formats and find and duplicate in few minutes. Moreover, it shows users all the information which is related to music in different windows so that it can be compared with the audio files side by side easily.
The best thing is that it is fast all thanks to the fuzzy matching algorithm. The best with is that it offers users to filter out results on different ways to move out false duplicates and then they can be removed easily.
ALSO CHECK: Top VPN Providers for Windows 11 that are Free and Fast.
Auslogics – All sizes considered
This one provides users with the same features but out of cost. It scans out the specified folders for these and presents them in a clean interface thus making it easy to find out culprits. Multiple search parameters can be defined including min/max file sizes, their names, date of creation as well as the like.
Based on MD5 the content of the file is matched but has no byte-by-byte comparison. The user makes a choice of what needs to be done to the duplicates either to permanently delete them or send them to the recycle bin. The best thing is that it supports single-click operation though carries a less friendly user interface and provides the paid option a run for their money.
This one also comes with a single-click operation; this is for all those who wish to get rid of all the duplicates from different sources. It is also used to offer different scanning modes and used to compare files by their names, sizes as well as content. The best thing is that it carries a wizard mode which makes it easy to specify which kind of cleaning is needed.
For single-user license costs around $39.95 and works on Windows XP to Windows 11. It carries a limited, demo version as well as a Mac version. We suggest you this if you are looking for duplicate file finders for windows.
ALSO CHECK: Free Software To Bulk Rename Files or Folders Quickly.
This one is paid software that provides users with many features. The unique thing about this is that is can scam the network drives replacing removed duplicates with symbolic links towards the originals and also give many reporting options including stating the owners of these as well.
On types of files and hash, values reporting can be as well plus these can be exported and scheduled for automatic emailing. Its user interface is similar to MS office products.
This is an expensive option on the list with a single license starting at $55. It also comes with a 15-day free trial so make sure to use it before purchasing it.
This is yet another one that uses name file name, size and content to find duplicate files. It is able to support almost of types including videos, pictures, docs and much more. It roots them out of the system in an effective way.
It deletes all such files which are left behind when you clean up your system. The best thing about this one is that it comes with a backup and restores system which recovers files that are deleted by mistake. Download it for free and use it for some and then update it.
A good option for windows machines as it carries an easy interface through which you can find duplicate files very easily. It has a built-in selection assistant which shall pick up all the files which need to be removed. The best thing is that with this move the duplicate files to a different folder. It is good to find pictures even when edited, music files based on the name of the artist with folders, zip files, and much more.
It works well with all kinds of files as it does not support byte-by-byte comparison. It comes with a 15-day free trial so give it a try before making a purchase.
ALSO CHECK: Factory Reset and Delete Everything from your PC.
CloneSpy – More storage for you
This is another free option on the list which does a fairly good job. It works mostly in the same way as others options mentioned on the list and offers a byte-by-byte comparison to find the culprit. The best thing is that it even finds these between local hard drives as well as network drives which one cannot find out even in paid software.
It also finds out duplicates that are not the exact match in this you carry two different files having the same name but a little different content. It along with getting rid of all of these also generates reports of all dupes which are found. Moreover, on file names and extensions comparisons can be done and you get an added option to find files that are empty. It does not carry quite a satisfying interface and this is the only place where it lacks.
AntiDupl – No more duplication
If you only want one for image search then try this one out. It comes in free and is open-source software that uses advanced algorithms to find out all the similarities between images. It is able to scan as well as analyze a big volume of images plus delete or merge them in a single click. It supports formats like; JPEG, GIF, TIFF, BMP, PNG, EMF, WMF, EXIF, ICON, JP2, PSD, DDS, and TGA. Moreover, it is also used to scan the image's content and display them side by side for some easy comparison to move or delete.
It even can find similar copies of all the images having some kind of blemish or defect. It carries such a powerful modeling algorithm that it is able to perform image recognition as well as to detect identical pictures. It's quick in performance and is able to handle a lot of data (GBs) without any issue. So, if you are looking for a duplicate file finder that is able to find out similar as well as identical images then give this one a try.
AllDup Portable
This one comes packed with many features. The user can search and remove such files from the system in an efficient way. It clones all files with filename, size, date, file extension, and other attributes. These are used to duplicate images, music, texts as well as movies. It comes with picture mode which dives deep to find out similarities in the content.
It is also able to duplicate songs from audio formats like MP3, FLAC, and many others. It keeps all deleted files in a backup folder for some safety reasons which later can be deleted permanently. This is powerful software so do give it a try.
ALSO CHECK: Choose the right version of Windows 11 for PC gaming.
Frequently Asked Questions
Does Windows 11 have a built-in Duplicate File Finder?
No, it does not have a built-in solution hence why we have analyzed and listed the 10 choices above.
Are these free or do I have to pay?
Most are free and some have paid premium features however all will allow you to do a good cleanup of your junk files.
Conclusion: Best Duplicate File Finder for Windows 11
We all take about a dozen of photos and videos of the same event in life. This is the same with any downloads or data we don't need. Unfortunately, this causes a lot of junk and temporary files and their clones to take your storage space. The above 10 best free duplicate file finders for Windows 11 will help you get rid of the useless clutter of files from your PC in an organized manner. Enjoy!