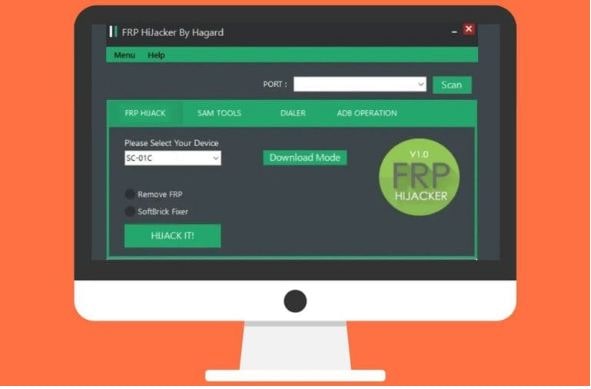 Locked your device and want to bypass the FRP Lock? Users having incorrect Google account credentials can't unlock and use their devices. Now, what if you forget your ID or Password? Or if you have bought this as a second-hand device with an account that is signed in already then you may face issues like getting a hold of the account details. In such cases, follow through for some guidance. This is where FRP Hijacker will do wonders!
Samsung FRP Hijacker Tool 2023 free download shall help you to remove the FRP lock from your device using a PC. When it comes to protecting your device, you may have gone through a few stringent measures like:
Setting up a strong password or PIN.
Using two-factor authentication for different accounts.
A factory reset is another option; preventing your device from getting reset and accessed by unauthorized users acts as string protection for your device.
What is Samsung's FRP Hijacker Tool?
Commonly known as Factory Reset Protection is a security method introduced by Google for all devices starting from Android 5.1 lollipop. As you sign in with Google ID, this kicks in. Thus, the only user with the correct account credentials shall be in a position to factory reset his device. Even if an unauthorized user tries to access his device through some workaround, accessing the device would still need the username and password of the Google account.
If it gets lost then it shall still stand protected and secured as the other person won't be able to reset the device and add in his own account, now a question comes in "what if the owner forgets about his account details"? Now, if something like this happens then this article shall help you.
What is FRP used for?
A tool designed especially for Samsung devices. With a single click, users can remove the FRP lock from it. The story is not over here as:
It is also used to bypass this lock when the device is booted to Odin mode.
Users can also create an ADB Enabled Combination file through this.
It provides support to FRP removal through a phone dialer or through ADB commands. This former is located within the dialer section while the latter option can be found within the ADB Operation.
A baked-in Softbrick Fixer Tool; use this to bring your device to work in full condition in case of soft-brick or boot-loop.
READ ALSO: Download AndroRAT App APK for PC (2023 Edition).
FRP Hijacker Latest Features
It comes in free, the best one right?
It is able to work on all Android Smartphone devices.
It is a one-tap tool.
It supports Windows, MAC, and Linux systems.
It is quite easy to use.
Comes with a user-friendly interface.
It is able to fix Softbrick.
Uses a phone dialer to remove and bypass the Google account on the specific device. This is known as the phone dialer method to bypass this.
Users can use this to fix various errors and bugs in the device software.
What can it unlock?
This lets users unlock their device lock and remove it. It is used to unlock any kind of password such as:
PIN.
Pattern.
Fingerprint locks.
Installation Guide for FRP Hijacker Tool
For this you need to follow the steps below:
In the first step, you need to download it.
Make sure that you have the latest Microsoft Net Framework installed on your system.
Extract this on your system and open the ".exe file".
You shall be asked for a password, this is provided in the Zip file.
Complete its installation.
Once done, you need to "open it".
That's all; you can now bypass this lock on any Samsung device out there using this tool.
How to Remove FRP Lock on Samsung Phones with FRP Hijacker
Now let's see how this can be used. For this:
Once the installation is complete you need to "open" the tool.
You shall be presented with a menu, it looks something like this:
From the drop-down list, you need to click on "device model".
Connect the device to the system using a USB cable in the DL mode.
You shall be given two options to choose from – Remove FRP and SoftBrick Fixer, click on "Remove FRP" and select the "Hijack it" button.
This is all!! This shall remove it easily and easily.
FRP Hijacker Tool Compatibility
It shall remove and also bypass this from any model. It has the following features:
In the first step, you need to delete the Samsung account without any password.
Have full control over the device without any limitations.
It supports almost all devices including Samsung Galaxy S10+, S10, S20, S20+, Note 20, Note 20 Ultra, S21, S21+, S21 Ultra, Note 9, and Note 8. Now confirmed that they work on these devices.
New support for Samsung Flip along with Z Fold 3 devices.
Full Credits: It was developed by Hagard to help the community and members. All credits go to him for sharing such a tool which comes in free.
Download Samsung FRP Hijacker By Hagard (2023 Latest)
You are not the only one who has forgotten their Google accounts on their device. This is where tools such as Samsung FRP Hijacker download 2023 come into action for bypass purposes. FRP Hijacker only requires a few minutes of patience to remove a lock from an Android device. Cheers!
You need to write this down in the password file, is www.gsmhagard.com make sure that you do not include any spaces and keep all the letters small. You just need to type or copy-paste this there in the box.
Version: v1.3 (Latest most current).
Samsung FRP Hijacker Tool v1.0 Fre Download 2023
Easy Samsung FRP Tool (v1/v2/v2.7)
This is an upgraded version of the original tool by Hagard. It is as its name suggests, very "easy" to use and does not require you to have prior knowledge of bypassing factory reset protection mechanisms. It works on the latest One UI 2, 3, and 3.1. It works on any PC and all you have to do is run the tool on the same network as the mobile is connected on and it will do the rest for you.
Here is how to use it:
Extract the downloaded file.
Now click on EasySamsungFRP.exe to open the file.
Select the "Disable Drivers Signature" option.
Give your PC a restart and reopen the tool (Connect your device now)
Click on "Bypass FRP" and done. That is all you need to do.
Download Easy Samsung FRP Tool (Latest Versions)
FRP Hijacker Tool 64-bit (v9)
This is the latest release for PC that features 64-bit support. Now it works without a password so you can get straight into the unlocking fun! A more stable architecture means removing accounts is more stable and the process is less painful. The UI is mostly the same with minor cosmetic changes to the buttons making them more interactive. Support for the latest devices including , S23 Ultra, S23, S22 Ultra, S22, Galaxy TAB S7/S8 and A52/A53. Support is now also added for Galaxy Z Fold 4 and Z Flip 4.
New support for Qualcomm and Exynos chipsets with protection bypasses for Knox are also added. This is truly amazing.
Version: v9.0