Many changes have been seen in the new OS; the major was overhauling the Windows photo viewer application and replacing it with a decent yet modern-looking application. Its performance however took a big hit but takes some time to preview any picture. This is a big issue and users generally browse their pictures on the system.
Fortunately, we have compiled for you the 10 best free alternatives for the Windows 11 photo viewer. These are a great addition and will also allow you to edit, crop, resize and even compress your images on the go.
Let's get started!
Top 10 Best Free Windows Photo Viewer Alternates for Windows 11
This provides users with a modern aesthetic and is quite simple and modern without any bells and whistles. It performs in a neat manner. It loads images without taking much time plus you can get an instant preview.
The best thing about this one is the menu on top of the picture. It provides users with quick access to all the important features such as zoom, print, rotation and many others. If you wish to rotate a picture just hit the rotate option.
Overall, it has great performance and you are going to love it.
This is quite a popular application to view pictures on the system. If you have been a user of the default photos application then you are going to love this. This one is snappy and within no time loads pictures. It is light in weight and the difference is performance is simple day and night. It has a footprint of 3 MB and you shall see no Bloatware in it.
The best thing about this is that it:
Carries many formats of media
An in-built image editor.
Convert media files.
Batch edits images.
Zoom pictures.
Switch to a different picture with help of a scroll bar.
It carries similar functions to the default application. Give this one a try if you are looking for something which is simple yet unique.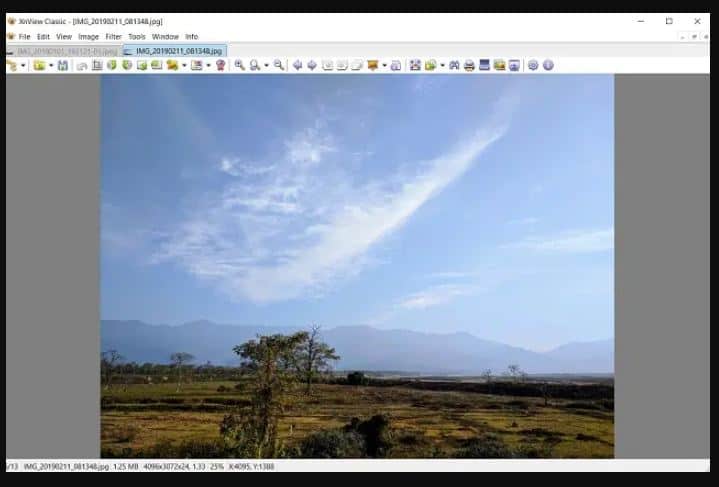 This is a popular application among users to view images on PC. The best thing about this one is that it is able to handle multiple images in a single, tabbed window which makes it a lot easier to view and navigate pictures at the very same time. With this zoom, change orientation as well as start slideshow within the same window. This is a good option which carries great performance.
ALSO CHECK: 9 Rufus USB Flashing Tool Alternatives for Windows 11.
If you wish to view pictures in full-screen mode then this one is designed for you. It's quite fast in performance, opens wide range of image formats as well as gives users an entire view of the picture. Now, by profession, if you are a photo editor then full-screen features help you have a clear idea of the image.
The application is primarily designed for users who work on images all day. It carries some editing options including viewing histogram, color management, changing effects and much more.
This is a powerful application with great performance and due to this, it is loved by users around the globe. We suggest this application to all the photographers and editors out there.
This is yet another option on the list which is good in terms of performance and visuals. It is an open-source application. In this image, loading is very fast and efficient. Users shall face no stutter or lad while opening multiple images.
It carries a standard-looking interface. It has basic features such as crop, zoom, print and much more.
It has a built-in image editor which rich in features. With this users can:
Mange opacity.
Perform batch processing.
Sharpen pictures.
If you want an alternative that carries some editing features as well then this is a good choice.
This is a simple light in weight application for the Windows platform. Though it does not come with fancy features but provides users with a minimal interface with stable performance. In this users can load pictures in a fast way without any lag.
It carries the following features:
Slideshow, rotation, crop and much more.
The two best things we loved were bookmarks and image clipboards. You can easily bookmark any picture and then quickly find it when you browse images on the system. Moreover, with this users can easily copy multiple images in the clipboard and paste them into the predefined folders.
If you are looking for something which is functional yet stable then we recommend this plus if you do not want any registry hacks then this is the closest to the older app viewer.
ALSO CHECK: Free HP, Lenovo and Dell Driver Updaters for Windows 11.
This option is the lightest of all mentioned on the list. It carries a footprint of only 2 MB. However, this is a simple application that supports formats like JPEG, GIF, BMP, PNG and many others.
It opens pictures in full-screen mode by default and carries the following features:
Quick navigation, photo enhancements, color correction and many others.
It also comes with basic features including:
Rotation, quick access to EXIF data, slideshow and much more.
We like this due to its tiny footprint and some great performance. This is a good alternative if you are using a low-powered system and wish to replace this native app.
This is yet another alternative that can be used on the new version 11 in place if the default application. It supports many media file-formats including new ones like it can display HEIF images on the new version natively without the need to separately download its extension.
Moreover, with this user is able to preview pictures from popular editing programs such as Photoshop and CorelDraw. Users can also organize pictures with folders, dates, tags and much more.
The best thing about this one is that it carries a built-in screenshot tool with which users are able to capture full-screen shorts or even take window snip with this quite easily. If you wish to have something like IrfanView with batch processing features then go for this one.  With this users can:
Rename, resize, and change file formats of many pictures within a single click.
It carries a footprint of only 10 MB therefore it is faster and lighter. This is a new application but carries all the essential features which are required.
It may have a generic name but carries a good design. Now, unlike the Win32 application such as FastStone, IrfanView and others this one carries a built-on older API. This is a modern UWP app that is quite similar to the default image viewer but comes with a difference which is that it is must faster and carries some quick editing tools. It carries an interface that is based on fluent design language and goes perfectly with the aesthetics of Windows 11.
It comes with a few shortcuts to navigate pictures. By hitting the F key button user can go into full-screen mode, delete pictures without any confirmation and much more.
The best thing about this one is that it is compatible with touch-screen laptops. To move back and forth between images you do not need to click on specific buttons, all you need to do is click on either side and then view the image easily.
It provides support to Apple's Live Photos (LIVP format).
ALSO CHECK: Use these free duplicate file finders on Windows 11 (Download).
Enable Windows 7 Photo Viewer on Windows 11
Windows 7 by Microsoft came with a photo viewer which was best to view images. This was quite fast and worked efficiently without causing any problems.
For this:
Download the "registry file" to activate the old photo viewer application.
Open it up, grant permission when it seeks,
It shall ask for final permission before merging the file with the registry.
Hit "yes".
Press the "windows and I" keys simultaneously to open settings.
Click on "apps".
After this, switch to the "default apps" tabs present on the left side and then change the default photo viewer to "photo viewer".
Next "open images", you shall see that the old one is back and images get loaded quickly.
RECOMMENDED: Best Free VPN Providers for Windows 11 (Unlimited Bandwidth).
Last Words
A picture that speaks a thousand words never gets old. This exactly matters here because a photo viewer allows you to see the photos you have saved on your device. We have put together 10 of the best photo viewer alternatives for Windows 11 that will make your experience even better and also give you built-in editing and cropping tools for quick access.