Windows 11 carries an abyss option for customization. But this is only limited to changing occasional wallpapers using most of the official and third-party themes. Some programs are available with which one can tweak his windows desktop, with Rainmeter being the most popular. It can change the overall look of the device and add transparency. We have shared a list of the 13 best Rainmeter skins that you will love to download and try because they are free and paid at the same time.
We have one for every mood you are feeling in a day! You can choose from minimal to aesthetic and from gamers to music artists. The choice is yours to make. Are you ready to pick one?
What are Rainmeter Skins for Windows 11
This is a desktop customization program that comes for free. With this users can transform their desktop look completely and can also display a lot of information on their desktop which can be tweaked in many ways thanks to all the countless skins.
To use these you need to have Rainmeter installed on your system. It is compatible with Windows XP to version 10.
The 13 Best Rainmeter Skins To Use With Windows 11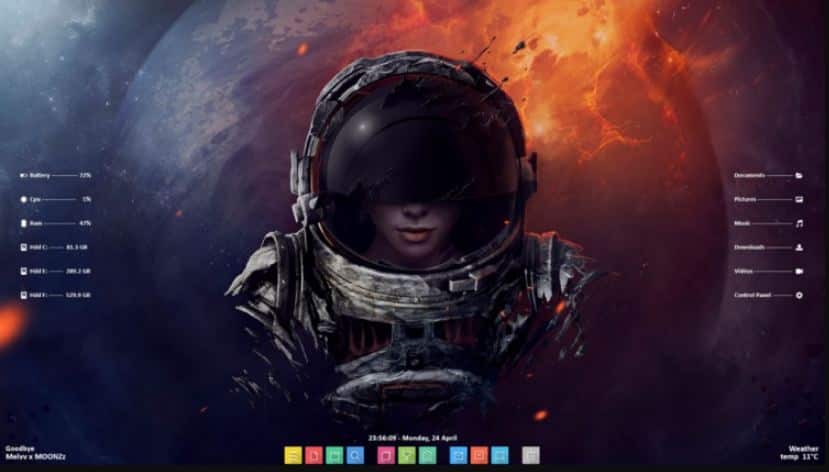 Want to upgrade to something minimal? If yes then this is the best one. With this one can track down many features:
Battery percentage.
CPU usage.
RAM usage on left.
Shortcuts to the software.
Folder on the right side.
One can also add in weather, time, date widgets as well as change the wallpaper of your choice.
This is used to convey all the important system information in quite an elegant way. It is very lightweight and blends in with the original desktop background image. With help of designed fonts, all the information is presented which includes:
Date and time.
Stats of CPU and RAM usage.
Media playback and control.
All details about the recycle bin items.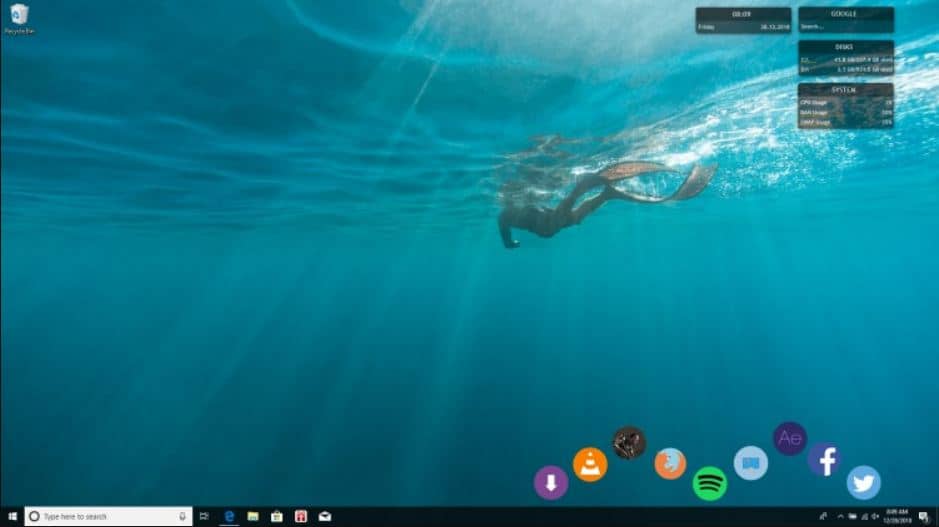 We know that Microsoft gives you the option to add software icons to the desktop or software but we can use circle launcher to further customize it. With this, the user can add circle icons to launch programs or games on the desktop. Icons when hovered are turned white and add in an appealing look. For now, it has around 150 icons in its collection. Alternatively, you can also use the Windows 11 icon pack installer to install them with a single click.
Cyberpunk 2077 – Gaming inspired for Gamers
We can now find it on all the leading platforms after many delays. This helps you to set up the look and feel of your desktop. With this, one can get
Desktop shortcuts for quick access with time.
Speeds of download and upload.
Information of the system.
Information about CPU.
ALSO READ: Best Windows 11 Themes that look beautiful.
LIM!T – For Music lovers
If you are someone who does not like to have complicated looks and want something which conveys meaning through text then this is the best option for all. It carries big and clean fonts which convey information by filling up insides of text-based content based on what kind of information is displayed by the particular text. It includes the following information:
Date and time.
RAM usage.
Weather stats.
Current media playback status.
One of the simple-looking skins, though it has important information displaying sub-modules still look good all thanks to its great-looking font and design which compliments each desktop regardless of the resolution. Modules display:
Time and date.
Status of the recycle bin.
Current temperature.
For all these, different variables are present.
The best thing about this one is that its sub-elements do not have to contain boundaries so they appear as they are written or directly drawn on the desktop background rather than appearing in the form of discrete widgets. When paired with the correct wallpapers it produces a next-level look. It has modules to display:
Disk partitions.
Space usage.
Temperature,
Time and date.
CPU usage.
RAM usage.
Consumption of Network bandwidth.
Speed – Transparency everywhere
It comes with a transparent effect and frosted glass. It looks great when it is matched with the perfect minimal and muted wallpapers. Its sub-modules carry a consistent look and the best thing is that they can be re-arranged to suit desktops with all various resolutions. These are used to display:
Time and date.
RSS feeds.
Network status.
Unread email count.
CPU usage.
RAM usage.
Temperature with the three-day forecast.
This is a real-time audio visualizer which is the same one used on these videos. It supports the following major media players:
Google Player.
Spotify and many others.
A simple skin that offers:
RAM usage.
CPU usage.
Time and date.
Audio and output switcher.
Storage widget on top.
The best thing is that the user can add his favorite application or game as a widget. Moreover, it also integrates a stem account as well as an Xbox bar to launch games and have access to different tools from desktops.
If you are someone who is looking for a trashy look and graffiti style then this one is the best for you. It uses good yet high-quality background which perfectly fits any desktop resolution. It has different modules which include:
Weather bar.
System bar.
Transparent calendar.
RSS reader.
Bottom dock for apps.
Slideshows.
10 ft HUD.
iTunes controller along with lyrics.
Aliens – Sci-Fi 
This is used to explain the importance of wallpaper in desktop customization. The best thing is that its modules can be configured easily and carry everything including:
Power status.
Disk partition.
Network downloads.
Upload speed.
Date and time.
Weather status.
Enigma – The finest
A popular skin is known as Rainmeter system monitor app, it has
Neutral design.
More than 100 customization options.
Around 7 variants for specific skin and much more.
It carries 3 pre-made themes which fit the computer screen.
It carries support for stylesheets which are third-party modification packages that completely change the look and feel of the suit. One the turn it on and off and installed as well
Windows 11 Rainmeter Skin FAQs
Are they safe to install?
It depends on where they are being downloaded. If you get them from trusted sources such as DeviantArt and Rainmeter Repository then you are good to go.
Is there a specific way to download them?
There are many skins available for download online. Keep in mind that trusted sources are very limited. Users can get it from Rainmeter Forum, DeviantArt, Reddit Rainmeter, DekiSoft and reddit.com/r/Rainmeter.
How To Install Rainmeter Skins in Windows 11?
The process is very simple to install on Windows 10 and other Windows Operating systems.
ALSO READ: Dark Mode Skinpacks that are free.
Do you have to set up the music manually?
Yes, for this one needs to download and install music Rainmeter skins on their system. Different skins are present on DeviantArt, simply search for music in its search.
Where can I find their stored location?
These are stored in the Rainmeter "skins" folder. Default location is
C:\Users\DekiSoft-Shaheer\Documents\Rainmeter\Skins.

If you would like to do some modifications then:
For this, no setting is there but it is not impossible. For this, the user needs to edit the skin and change things such as FontSize W, H, X and Y settings. Make sure to learn about this if you wish to change how these skins look or behave.
Conclusion
Customization is at the heart of every IT geek. We tend to make the devices personal by adding another touch of our modifications. This is why we introduced the best Rainmeter themes and skins for gamers and music listeners. We have a wide variety of collections that also have some subtle and aesthetic looks and minimal design for those who prefer to keep their desktop clean and clutter-free.