A motion sensor device is used to detect and measure movement, equipped with a camera it can be an effective surveillance tool. These are used primarily in home and business security systems but can also be used in smartphones, paper towel dispensers, game consoles as well as virtual reality systems. These are composed of:
Sensors.
Embedded computer.
Hardware.
These can be customized and are used to activate floodlights, trigger audible alarms, activate switches and alert the police. We are going to share with you the 5 best free Webcam Motion Detection software for Windows 11 which also includes sound detection as a bonus!
Types of Motion Sensors and capabilities
Software which are designed for the new OS are used to turn a webcam or IP camera into a motion detection system. we have compiled for you a list of uses to be able to leave an app running on a Windows 11 powered desktop, laptop, or even tablet and use a camera that is attached with the system to detect movement in and out of the house. With this, the software can take snapshots, send out mail alerts, upload snapshots to the site, and much more.
Active Motion Sensor
These are detectable by measuring changes in the amount of sound or radiation reflected at the receiver—for example Ultrasonic sensor technology.
Passive Motion Sensor
These are used to detect movement based on the perceived increase of radiation in the environment.
IMPORTANT: You have to make sure you are changing the default login credentials which are commonly (admin/admin). This is a high-security risk as they can be easily found using Google IP Camera dorks.
5 Best Free Motion Detection Software for Windows 10/11 (Download)
TeboCam – USB and IP Support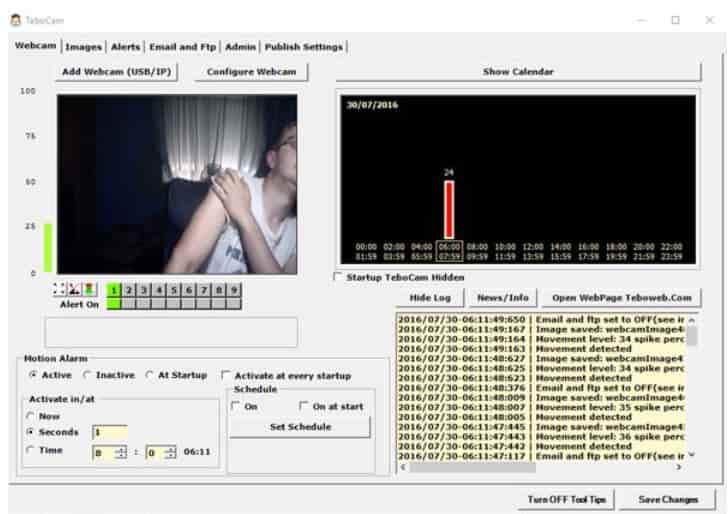 This is rich motion detection software that can work both with locally connected USB and IP cameras that are connected to the network through wireless or ethernet. With this, you can track up to 9 cameras. You can configure all settings of the application by using 6 tabs up top.
With the first tab, you need to choose the cam you prefer to use, set sensitivity, image quality, and much more. With the "images" tab you can preview snapshots created. Whereas the rest are used to receive notifications regarding the detected movement in front of the cameras.
You can locally save both notifications and created images, sent through email or published to an FTP server. In the "webcam" tab which is the first one, you shall be able to see live updates of detected movement in front of the can that too per hour. Moreover, an activity log is also available.
TinCam – Logitech compatible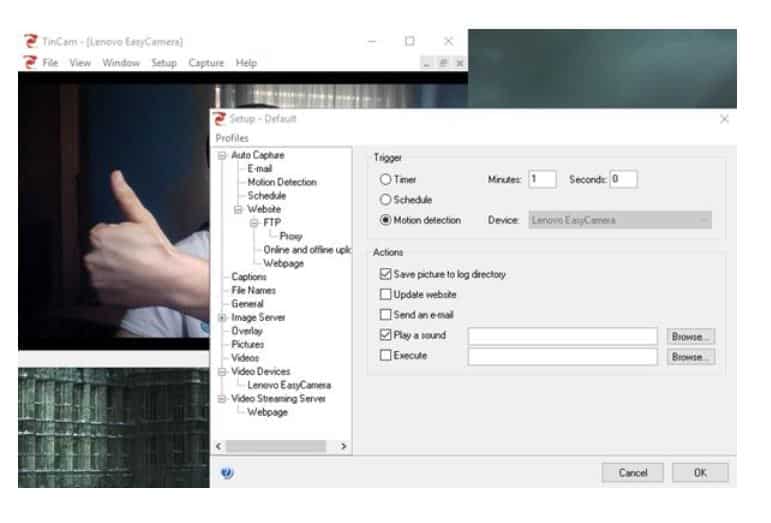 This is used to turn webcams into motion-detection devices for your system. Now this one works with cameras that are connected through the USB. Once it is launched you would have to choose the cameras that you wish to use.
The best thing is that this one carries many work modes. Set it to click pictures on a timer as well as schedule. Just select setup > > setup to configure the options available. The best thing about this one is the ability to email, locally save and even upload created motion-detected snapshots to a site or FTP server. It carries the best features, functions and is easy on the pocket as well.
The official site of TinCam looks to have been discontinued.
Motion Monitor – Use as surveillance
This is yet another option on the list which is light in weight and to-the-point motion detection software for windows 11. It is able to utilize cams that are connected through USB which is automatically detected once the application is launched.
Use this to tweak detection tolerance, the interval between checks as well as apply cropping on the X and Y-axis. Once it has been set up all you need to do is click on "tools > start" for it to begin with monitoring. You shall see 3 video boxes; the first one is the live cam feed which is on the left, the box in the middle is the last frame snapshot which was taken when this was detected and the third one is used to display differences between frames.
Once motion has been detected, the app shall save snapshots to the output directory present in the installation directory. Keep in mind to run the application with admin privileges else it shall not save the snapshot in the program's files directory which if you do not know is only writable to the administrators. Moreover, it carries no email notifications or FTP uploads.
RECOMMENDED: The best VPNs for Windows 11 and How To Install Them.
CamMo – Takes Snapshots and sends notifications
If you are looking for software that is simple and to the point in nature then we suggest you check this option for Windows 11. It works with cameras based on IP but keep in mind that first, it needs to be configured before it begins to take snapshots on detecting movement in front of the camera. You can also dim your screen to make the room look natural and not attract any unwanted attention.
Motion in front of the camera shall only trigger snapshots and notifications. When this is detected it is able to take pictures, record views, or send out email notifications. For the setup, you need to choose the camera, set the sensitivity, configure mail which the app shall use to send notifications and set the output directory where recordings shall be saved. Once you did just select tools > trigger the event for it to begin detecting motion on the camera selected.
SGS HomeGuard – Free NVR Solution with sound detector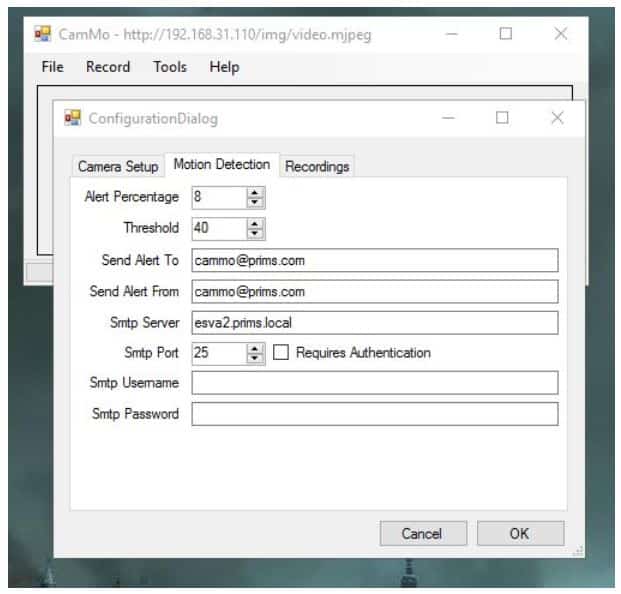 This is yet another option for Windows 11 which uses a USB camera that too up to 5 as motion sensors. Once it is detected it shall send out notifications and can also take snapshots of whatever and whoever is in front of the camera.
Now keep in mind that the camera shall not work instantly you shall have to first initialize it by choosing file > open video camera. If you wish email notifications to be sent out then you shall have to set the directory in a place where snapshots shall be saved as well as customize the quality of the image. Just hit the "detection mode" icon there from the toolbar up in order to begin monitoring. For this, you need to register an account in order to download the app which however is kind of a hassle.
ALSO CHECK: Free Software To Overclock your Nvidia or AMD GPU in Windows 11.
Conclusion: Do you use Motion Detection Apps on your PC?
Security is of paramount importance in this day and age. We are all monitored in one way or another only the method is different. We bring you 5 best Webcam motion detection software that you can install on Windows 11 for free included are download links for quick access. These will trigger alerts or even record when any movement or change in the environment is detected.
Do leave comments below and show your setup or tell us about how you have your home security setup.