Today people prefer to text rather than talk face to face this is all due to the availability of different text messaging apps in the market for smartphones. As today everyone has a smartphone device, developers are making more and more apps of such kind.
Users do not care that much regarding the SMS inbox but it carries private information. There are specific types that we do not like to share with anyone out there. This is where our article focuses on sharing the 11 best apps to hide text messages on Android, that is free to download and official too.
Apps such as Hike, Viber, Facebook Messenger, Telegram, Whatsapp, and many others are used for the purpose to exchange messages but these are still not able to replace SMS inbox as in this sensitive information like authentication codes, one-time passwords, and much more lands.
11 Best Apps To Use If You Want To Hide Your Messages on Android
Vault – Hide All Media
This is a multi-purpose application that is able to hide pictures, videos, call logs, SMS from the phone. The best thing about this one is that it offers a separate panel to hide calls and SMS. All you need to do is just import contacts whose messages they want to hide. Moreover, it also hides notification of providing contacts.
This is quite a popular and top-rated app that is available on the Google Play store. It has over 100 million downloads. It offers its users a huge range of personalization options. Moreover, it offers users a private messaging vault in which contacts are added. Later on, the password can be used to protect messaging vault to fully proof of future SMS.
SMS Lock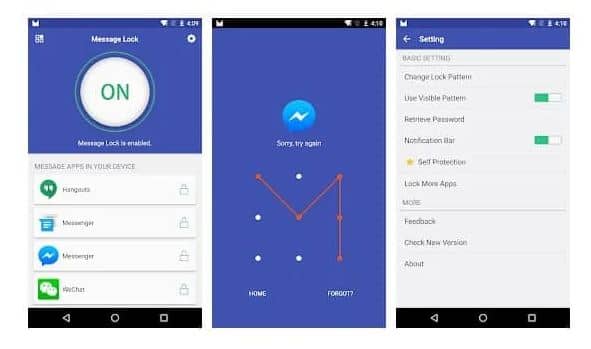 If you are searching for something that is simple then this is the best pick for you. Use this to password protect all your major apps such as messenger, Hangouts, WeChat, Telegram and much more. It carries a simple easy to use interface. This is the best SMS locker that can be used today.
Message Locker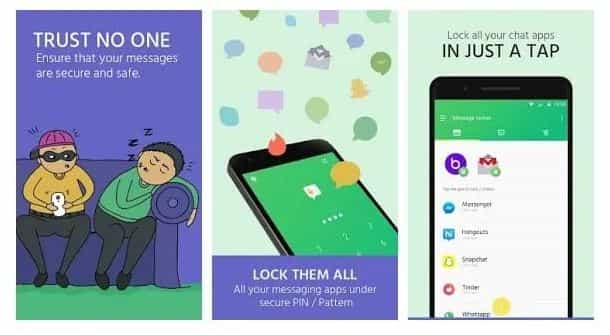 This is yet another application for your android smartphone device that helps users to keep their messages to themselves and away from all the evil eyes. Not only the SMS inbox but this can be used to protect all third-party and system apps such as Whatsapp, Gmail, Telegram, Facebook Messenger, Skype, and much more. Moreover, it carries an intuitive interface that makes it stand out from the crowd.
Update: No longer available on Google Play.
This is seemed to be the best and top-rated app that is used to hide all your private conversations. This is a full-fledged calculator application along with a vault feature. This allows users to add contacts to the private contact list. Once it gets added, new messages that are received from specific contact shall be moved inside the application.
READ ALSO: Top Free Procreate Alternative Apps for Android (APK Downloads).
Private Message Box
This one is for all those who have been searching for a different yet unique way to hide private messages on their smartphone device. This is able to save SMS and call logs of certain contacts behind the PIN lock. The user just needs to set contacts on contacts on this and it hides each SMS from chosen contacts automatically. Moreover, it carries a password-protected feature that can be used to hide the main box with no app icon.
SMS Plus
This is a new app that is available on the Google Play store. This is used to hide messages on your smartphone. The best thing about this one is that offers users two different passwords in order to avoid snoopers. Moreover, it also carries a feature in which it shows "no message" to everyone who types in the wrong password details.
Privacy Messenger
This is a messaging app that can be used as a stock SMS app replacement. All users need to do is set privacy messenger as the default app to get the SMS. Once this is done, it stores all the sent and received SMS automatically.  The best thing about this one is that it provides users with a private box that is used to lock down SMS from a specific contact. Moreover, it also offers users SMS blocking and backup features as well.
Picoo Messenger
If you are searching for an SMS and MMS replacement app for your smartphone that is simple to use, free and light in weight then give this one a try. With this, you can send and receive SMS, MMS and emojis to your contacts easily. Moreover, it allows hiding messages from and to private contacts. Keep in mind that you need to install the vault if you want to hide messages.
READ ALSO: Top Android Phone Emulators that you can use on Ubuntu or Debian.
Message Lock – SMS Locker
This is one of the best yet easy-to-use Android SMS locker applications which can be seen on the Google Play Store. It is a full-fledged app and users need to set message lock (SMS lock) as the default SMS application. As done, each conversation the phone receives shall be stored on the application. As you enable the app users can use passwords, PINs or even pattern to lock it.
This is a unique security application that can be used. This is actually a full-fledged app that carries a hidden vault. This can be used to hide SMS, MMS or call logs of all the secret contacts. The vault only opens when the set password is entered on the calculator panel.
Closing Statement
So these were all the apps you can use for hiding text messages on Android. These are free and are available directly from Google's PlayStore. These are great fun to use for pranking your friends and family or even a quick little magic show for disappearing chats.