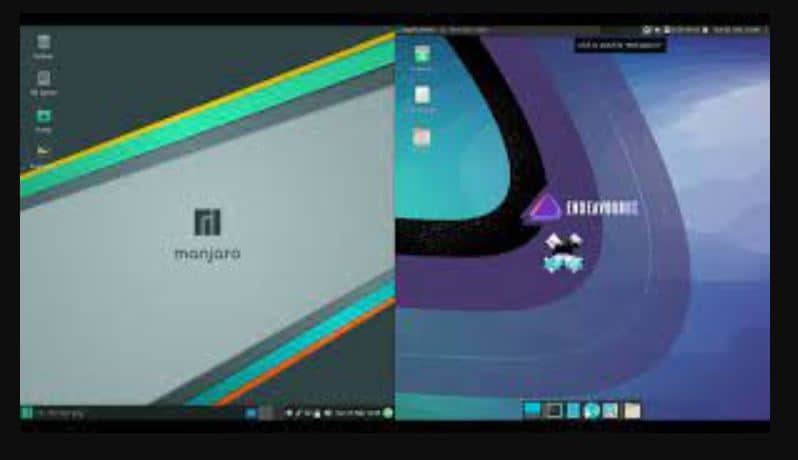 The best non-Ubuntu distros are Manjaro Linux whereas EndeavourOS is seemed to be a well-known and popular arch-based distro. The first one is quite old in the market whereas the other one has made a new entry.
Now, you might wonder which one is good, well for this you need to follow through the Manjaro vs EndeavourOS comparison below. We shall be comparing Xfce variants as they are popular and all from the process of installation to features and how they differ.
What is EndeavorOS and who is it for
This is a great option for all the newbies. It provides a solid platform on which users can install applications and packages which they want on a personal system.
For beginners it is friendly as it does not force you to use the text-based installer in order to set the system, the bare minimum requirements are covered whereas you need to be somehow familiar with Linux to manually get other packages.
If you use Windows and Mac and wish to move to this we won't recommend this as there are many other distros.
This is perfect for Arch beginners, for all who have used Ubuntu or Linux Mint and now wish to experience its power and are not at all comfortable going GUI. This is best yet perfect for such a demographic.
Manjaro Linux vs EndeavourOS – Full Detailed Comparison
Installation Process
These both carry the very same open-source installer known as Calameres. The process is easy and smooth. There is one difference as explained below:
Today there are many Manjaro variants such as GNOME, Xfce, KDE and many other community versions thus you can get whichever you want and continue with the process of installation. The other one carries two options:
Online- In this selection from a list of desktop environments having two community versions.
Offline- By default this shall install its customized Xfce DE.
ALSO CHECK: Is CentOS 8 a good replacement for CentOS 7.
Choice of software
The first one uses its very own Manjaro repository for packages whereas the other one tries to be as arch-like as it can by adhering with the Arch repository.
Both of these are good but it lags behind as the operating systems devs first test the packages to be sure that no bugs are there in the Arch. This keeps the overall experience quite stable.
Manjaro holds the grip on the number of beneficial, pre-installed applications, tools and best package management.
It also carries great package management for Flatpaks, Snaps as well as AUR known as Pamac. This is quite a good GUI package installer for all the newbies. It can be found on both platforms but needs to be separately installed.
Manjaro also provides users with a GUI Kernel manager in order to install and switch without any issue. The other comes with a kernel Manager Known as "A Kernel Manager" but keep in mind that user can only select from various Kernels but not their versions.
This lets users install a category-wise selection of applications right after installation which is best. With Endeavor OS, users can only install Chromium browser, browse AUR packages and Libre. We suggest Manjaro when it comes to stability.
ALSO CHECK: Manjaro or Gentoo – Which one should you pick?
Graphical Interface and friendliness 
We tested out Xfce variants for both. The first one uses vanilla Xfce with some teaks whereas in Endeavour OS Xfce is somehow different look-wise.
Manjaro theme is clean and quite easy to work with whereas the other one looks great.
Keep in your mind that the looks of the operating system can be subjective therefore you might wanna go for both the options out in a VM if the user interface is quite a big thing for you before making any decision.
Simple to the core
We have seen Endeavour OS as the most minimalistic distro and are also a terminal-centric operating system.
It carries are the required applications and packaged for users to install on their Arch system. It carries basic drivers for network, graphics, drivers for sounds, and Yay support along with a terminally operated AUR helper. The Firefox browser is there for your browsing needs.
In this, you won't get any extra applications and any Bloatware.
It gives you all the building blocks which can be a problem for newbies to install on a vanilla arch system. After this user has full control of your system, installing apps as well as packages to make their very own custom-made personal PC.
Configuration
Now to help newbies, Endeavor OS carries a rich welcome application both before and after the process of installation, acting like an assistant which guides you throughout the journey using it.
It provides you access to the Calamares installer as well as the option to update mirrors, troubleshoot problems, as well as links to many useful guides as tutorials before the process of installation.
Once it gets complete, welcome gets updated with new options which help you configure basic settings. Moreover, it carries sections that share tips and tricks to use this effectively and the option to "add more application" like an office suite, chromium-browser and much more.
ALSO CHECK: Parrot OS vs Kali Linux – Which is best for learning hacking?
Nvidia Support – Important
The best thing is that it carries a great feature with non-free Nvidia drivers which are pre-loaded into the Kernel. This is helpful for all those who use Nvidia GPU on their PC.
Getting its drivers is quite a hassle and to have them pre-loaded and installed automatically during OS installation is very easy. There are many additional steps for its Optimus users.
Performance Metrics
This is being examined on VirtualBox with the following configuration
Processor: 3 Cores of a Ryzen 3 2200G CPU.
RAM: 4GB.
Storage: 25GB.
GPU: Vega 8 (in-built GPU with Ryzen 3 2200G).
With this, it ran very smoothly. We saw no hiccups and the performance was great for everyday use.
ALSO CHECK: Is Manjaro better than Ubuntu (Full Comparison).
Conclusion – Which is the best choice for you?
We do not have a definite answer to this as both of these are excellent. The answer is what you prefer. If you are a newbie or mediocre who's all tired of Ubuntu and wishes to try Arch and loves goof themes then Manjaro is a good distro option. If you wish to have something all close to Arch and then worried about the other succumbing to corporate illness then Endeavour OS is quite a good replacement.
For over a decade Manjaro has been in the market whereas the other one is a bit new therefore we can say that this is not quite a fair comparison. But some years down the line we see this trading blow with Manjaro for best Arch-based distro.