Today due to different reasons users are opting for a dark theme for devices. Most of the OS includes Windows, Linux and macOS which provide us support for these visual treats. Now, if you like the dark mode then you can use it on your VLC Media Player, which is the most popular and widely used player that provides support for this. 
The steps explained below have been tested on Ubuntu 20.04 and can work perfectly fine with any other Linux distribution as well such as Debian, Mint, CentOS and others.
Be aware: VLC media player does not come with a dark layout of the box we need to activate.
First, Download the VLC Arc Dark Layout
You need to download the required skin for the dark mode, for this press the below download button to get the Arc Dark layout for it.
The downloaded file shall be in zip format, run unzip command as followed to unzip the downloaded file:
$ unzip VLC-Arc-Dark-master.zip

This shall extract zip content into a folder by the name "VLC-Arc-Dark-master".
After this open player either from the command line terminal app or from the graphical user interface (GUI). To open from the command line type in vlc in the terminal, to open from GUI click on the super key from the keyboard and type in vlc. When an icon from the VLC player appears click it to open.
In the media player go to tools > preferences as shown below. You can also use CTRL + P shortcut as an alternate.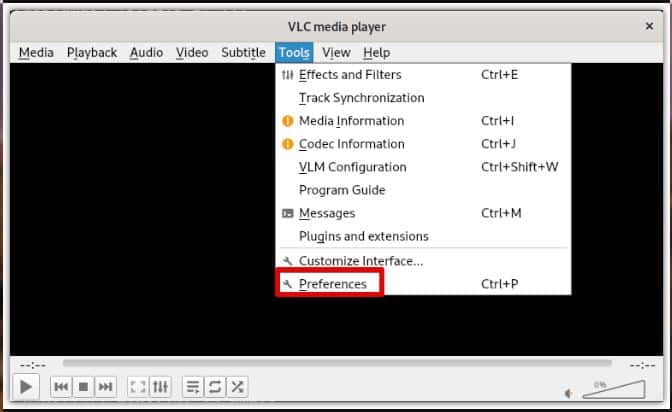 By default, it shall open the preferences window in the interface tab. Under look and feel settings, click on the "use custom skin" radio button. After this click on "choose" this shall open the file explorer window, and select skin resource file in .vlt extension which has been downloaded before.
Must Read: Install custom Dark, Nord and Creative Themes on Windows.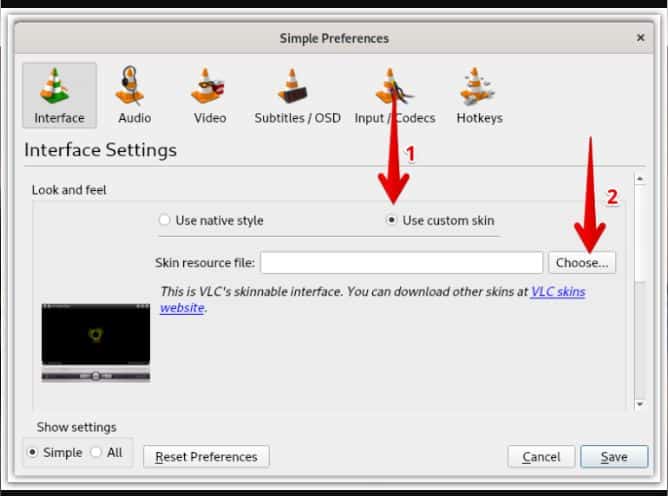 Once the skin has been selected, hit the "save" button.
To apply new dark skin, you would have to restart it. Close media player and then it shall start it again.
Once restarted, you shall see a new dark layout applied to your media player.
Switch to Default Theme
After using VLC for some time, you might want to switch back.
You need to open "preferences" by pressing Ctrl + P.
After this select the "use native style" radio button.
Hit "save".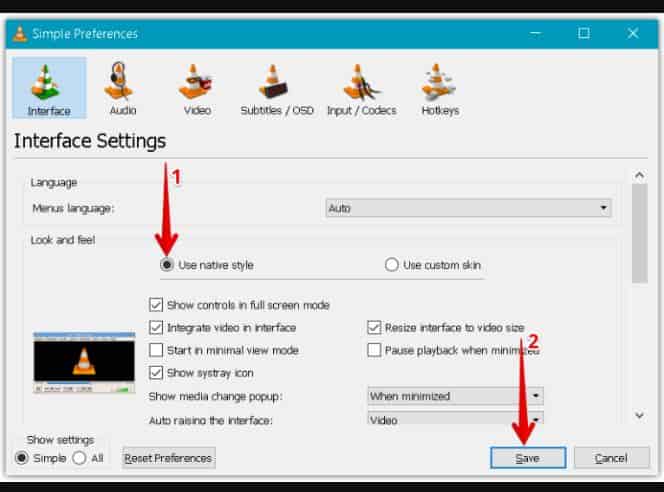 Restart the media player and you shall see that the skin has changed back to the default theme.
Both Windows 10/11 and macOS carry native dark mode support throughout the system.
Must Read: Top VLC Media Player Skins for Windows 10/11.
Enabling VLC Dark Mode on Android or iOS
Open the media player android application on your phone.
Select the menu icon from the top left corner of the application and click on "settings".
After this click on the "interface" option there under extra settings.
Select the "day-night" mode option.
Now you need to choose between 4 interface options; follow system mode, daylight mode, light theme and black theme.
You need to select "black theme" to enable dark mode on the VLC android application. You can also follow system mode, this shall automatically change the theme based on system light or dark on settings.
To enable on Desktop:
Open VLC application, select dark skin as there are no settings to enable this in desktop,
After changing this to a darker-themed skin, you can get a dark mode look to your player.
Why you should choose Dark Mode on VLC
less blue light exposure
This helps to reduce blue light exposure, now what is blue light? Exposure to this has been linked with symptoms of digital eyes strain which includes headaches, dry eyes and blurred vision. Science has proven that such light is used to interrupt sleep cycles which means it can be difficult to get rest if you are exposed to this near bedtime.
Phones have a blue light filter, the filter which should be also located in the display settings, and this lets you adjust the light amount emitted from the screen. This is a good option for all you can't see well in dark mode but wish to protect themselves from this.
Must Read: Xfce Linux Skins that look gorgeous.
Less screen glare
If you are seeing your screen in a dark room, bright light from the default setting can cause an irritating glare. Using this shall help to cut glare from the screen providing a comfortable view.
Users can manually dim the screen in the light mode or set brightness to adjust automatically based on surrounding light. Either option can be used to reduce glare if you do not want to use the dark mode.
How dark mode helps your eyes
As this model comes with many benefits, it might not be better for your eyes. Using this is helpful as it is easier on the eyes than a stark, bright white screen. However, using this requires pupils to dilate more to absorb information.
Now why dilating is bad? When this happens, the sharpness of vision is lessened, when they constrict in heavy light exposure, vision sharpens. For this reason, it might be difficult for a few people to clearly see all the detail in this model.
Must Read: Personalise Windows 10 Without Activating it.
People who suffer from myopia or astigmatism might also experience halation. This occurs when light spreads past a specific boundary thus creating a flurry experience. This gets more severe while using the dark mode, those who are already suffering from vision issues might benefit from dimmed light mode or blue light filtering mode. Now whatever mode you use in your phone the best way to ensure clear viewing is to have an updated vision prescription. Correcting vision issues shall bring relief that can never achieve both on and off-screen.
If you are planning to get new glasses then you can add special coatings in the process that shall block glare and blue light.
Conclusion: VLC Dark Mode on Desktops 2022
I hope you have now made the switch to VLC dark mode and had chosen one of the best skins we shared with you in another article. The tutorial above has been tested and checked to work with Windows, macOS, Linux and Android altogether with a very similar setup.