Windows can be the least customizable OS compared to the vast world of Linux and other open-source platforms. Though, this does not mean that you cannot personalize the experience at all. That would be unfair to say! Even with a restricted nature, there are certain aspects that you can alter, icons packs are one of them. Changing these can transform the way the interface will look to you as well as others. This article includes the best Windows 10 Icon Packs available on the web. They look beautiful, period.
So, at least sometimes, that's a way to make your own style to select the right set of icons. Windows 10 has built-in support to change icons which is very simple. For all those who are new, we shall tell you how to change them too.
First, how to change the default Windows 10 Icons? (The Easy Way)
3 kinds of icons are there in Windows 10 and changing them requires different steps. 3 ones are desktop icons, shortcut icons and file and folder icons. We shall take you through the process to change all these or individual ones. Let's begin.
It is an easy process. If you wish to change icons for desktop icons such as Computer and Bin, follow the steps below:
Click "start", from menu select "settings".
Go to "personalization", from sidebar pick "themes".
After this click on the link called "desktop icon settings".
Here, you shall decide which ones are there on the desktop.
To change an individual, select one and click the option "change icon".
In the window that pops up, you can see a list of available icons. Click the "browse" button if you further want to explore.
Using the dialogue box, open the icon pack you wish to have.
Click the one you want to replace the existing ones with.
You have changed how desktop icons look. If you would like to try out different skins, you should check our page about themes with sound effects.
Method #1: Changing your folder icons
If you are not using a third-party application then you need to change these of individual folders one at a time. For this:
Right-click the folder you want to change the icon of and select properties.
Click on the "change icon" button, under the customization tab in the next window.
In the window which pops up, select the "change icon" button.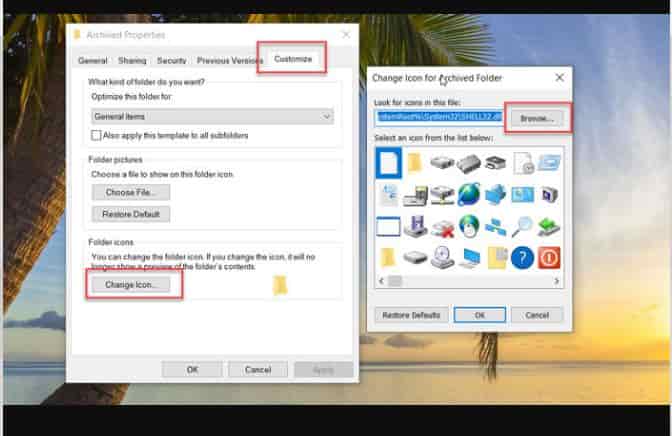 4. Like before, you can browse and select the pack.
5. Wait for the changes to be applied. Alternatively, you can also follow our guide to install custom skins.
This is quite simple and comes with a restore option if you change your mind and want to go back.
Method #2: To change folder icons
The Process is a bit different depending upon the folder. Use the following results to get results:
Go to the directory for which you wish to change it and right-click on it.
Click on the Customize tab from the menu.
You shall see folder icons; go for the one you prefer at the bottom of the page, and select the "change icon" button.
You shall have a list of icons. Choose the one you like. To select a custom icon click on the "browse" button.
Now go back to the change icon page. Hit the "ok" button to save the desired changes. On-page, you shall also find the option of "restore defaults".
Method #1: Changing your file icons
In spite of changing single file icons, you can change them for specific file types. Still, you need a third-party application such as FileTypesMan to perform this. Once the program has been downloaded you need to follow the steps below:
Open FileTypesMan, you shall be able to see a list of file types available in the system.
Select file type from the list whose icon you want to change.
Right-click on the selection and select "edit selected file type" to proceed.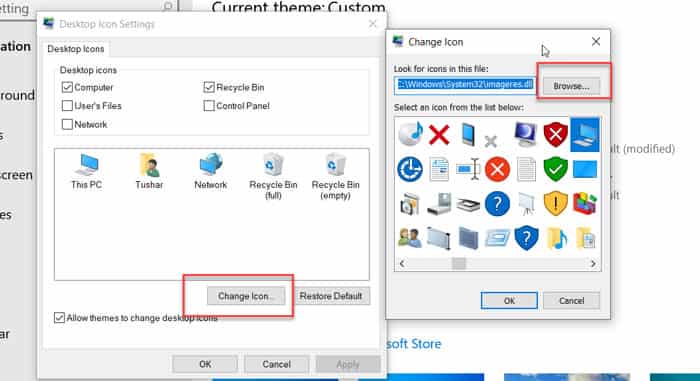 4. In the window that pops up, select the "browse" button there next to the default icon option.
5. Chose it from file explorer and enjoy the new looks.
We hope this was not hard as the tool used is great when it comes to managing file types in the system and not just changing icons of individual files.
Method #2: Changing the Default Icon set
Click right on it, and from the menu choose properties.
In the window which pops up, select the "change icon" button.
Select the "browse" button and choose the folder which carries downloaded icons.
In the change icon window, you shall find a list of available icons which are updated.
Select preferred icons and hit the OK button.
The shortcut icon has now been changed. Simple!
Downloading Icon Packs
Go to the browser, and visit any site hosting icons.
Type the one you are looking for in the search bar.
You shall be represented with a display of these according to search criteria.
Chose the one you prefer.
You shall see various formats, select .ico from options.
Top 10 Windows 10 Icon Packs that look stunning
Want something more advanced yet colorful then this is the one for you. It carries a variety of icons like desktop icons, adobe CC apps, folder icons and all. Within these, you can also select different shades and colors.
Simplus – Simple but eye-watering
A popular one that adds minimalism to the Windows 10 interface. It gives pleasure to the eyes all thanks to its minimalistic set of looks and shades. These are usually folder icons you shall be able to select between light and dark ones as per your requirements. Install it using the second method.
If you want variety during organizing folders then go for this option. In this do not expect more than folder icons in the package. It is best when you need a well-organized desktop. Comes with easy installation as allows you to change individual folder icons as per your needs.
If you want modern user interface icons for your Windows 10 then this is a good choice. This is again another comprehensive option in which you get icons for different types. It not only includes desktop icons but folder and app icons as well. It adds a new flair to your PC experience.
If you are looking for a circular set then this is the one for you. The beauty is how it transforms the taskbar and desktop into a modern one in no time. Moreover, you do not need to worry about mixing and matching some of these to create disruption
Insignia Icons – Close to default far from looks
If you carry a different approach for file icons in the Windows 10 system then this is an amazing choice. As we are dealing with a comprehensive package we don't need to search further. It offers you these even for web applications such as Google Drive and Gmail if you are not into that.
Star Trek Folders
Are you a Star Trek fan and want the same tone on your desktop or user interface? If yes, then you need to check out this beautiful pack. It is very easy to install and provides some of the best looks for Windows 10. The best part is that the same is available for macOS if you are into making things common.
Consider this if you want some extra shadow-ish icons for your version 10 interfaces, which are packed with icons for every purpose. This is designed to make things easy for you. As it does not have many application-based icons it shall replace almost all the drive and folder icons.
Have a retro look at your desktop as well as the taskbar. In this, the icons might cause some issues to the eyes but you shall get used to them after some time. Once everything is done, don't mind that your desktop looks like an old video game from the 90s. In spite of all this, it is a good choice.
Must Check: Recommended Windows 10 Clock and Calendar Gadgets.
This has been designed especially for the macOS versions but you love to have the same on your taskbar. These are known to have a simple design and overall appeal to the eyes. The only issue is that it comes with a limited collection but helps you when you have time to customize it.
Windows 10 Icon Pack Installer – Do you need it?
If the above steps are hard for you and you do not follow them, that is fine. We have a solution for that, too! You can use the Icon Pack Installer which does everything for you. You only have to install the below tool and pick an Icon set from above (or any) from the web.
You can also schedule your icons to change automatically on different dates and times. You can choose up to 3 icon packs to rotate automatically.
Version: 1.0.5 (Updated)
Windows 10 Icon Pack Installer Download
Thanks to all the developers who worked hard to make the above selection possible on DeviantArt.
Final Say: Which Icon Pack have you picked?
Above we discussed and listed some of the best freely available icon packs for Windows 10. These were handpicked and have a great mixture of minimalistic, cool, aesthetic and beautiful-looking sets to give a new look and feel to your files and folders. Let me know what your thoughts are on them below. Cheers!