It is difficult to download larger files from the web and results in slow downloading speed, to save ourselves from this hassle, we have made various tests for you. We have made a list of the 10 best torrent clients for Windows 11 so you can choose a convenient torrent downloader that will meet your p2p needs and offer stability, performance and good speeds while being free to use.
With these, we can download giant files quickly. Many goods are available in the market we have compiled a list for you, so follow through and also read the frequently asked questions in the end.
10 Best Torrent Clients To Download Torrents in Windows 11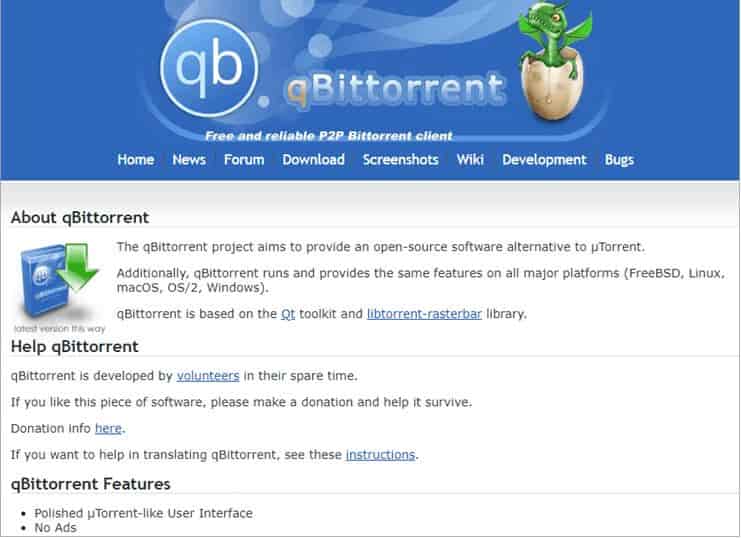 This is great for free torrenting and is malware and ads-free.
This program comes free and is open-source. The best thing is that it is free from adware and malware. Though it carries advanced features still is easy to use and its settings are customized.
It works with ease across all kinds of devices and OS. It provides user access to the file we need and allows searching for multiple files simultaneously.
Why use this client:
Carries RSS feed support.
The search engine is intuitive.
No ads.
The user interface is polished.
The user interface locks unauthorized users out.
This is great for easy torrenting downloading and has many setting options.
This is quite an old option and has gone through many changes over time. It has settings both for new users and professionals. Moreover has an intuitive search engine on which we can look for desired files on basis of categories.
In this users can tweak settings to schedule downloads, bandwidth usage can be limited, the cap on download and upload speed as well as manage paired devices. However, it has a free version but has ads.
With the pro-alternate of the tool, we can get rid of all these ads. It carries its very own features including streaming torrents while the process of download is in process and has access to the in-built media player.
Why use this client:
Bandwidth usage is limited.
Downloads can be scheduled.
Search is based on categories like software, movies, music and much more.
We can set a cap on download or upload speeds.
ALSO CHECK: Free ShowBox and CineHub PC and Android Alternatives.
Vuze – Seamless experience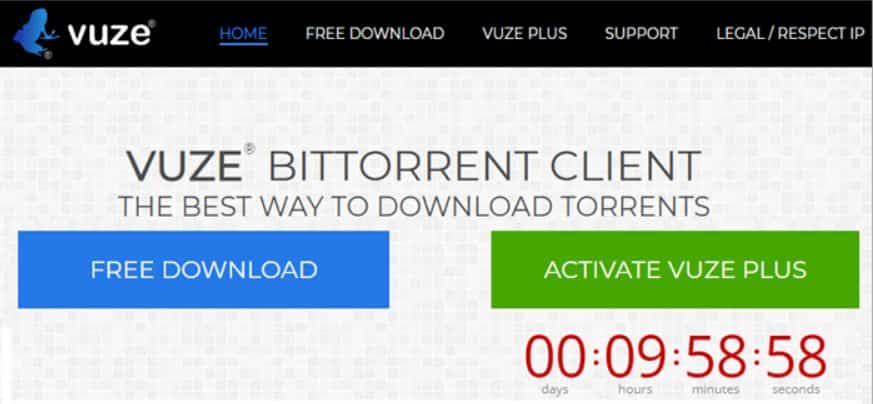 This comes with a simple user interface as it prioritizes simplicity. With this download and search torrent files with ease. Ads are minimal and the best thing is that user experience is not hindered.
We can eliminate the ads by getting the paid version, which is Vuze Plus. As it is early software you shall see a lot of similarities between its user interface and others that existed over time.
It has many features: an integrated search option, magnetic link support, and remote control software through the mobile application. It has a premium version as well in which we can preview files in its built-in media player while still being in the download process.
Why use this client:
The search option is integrated.
The user interface is simple and clean.
Through mobile applications, we can control the tool remotely.
Magnetic link support.
ALSO CHECK: Download Latest Movies Subtitle Files in HD with accuracy.
Deluge – Support for plugins
This is great for the open-source torrent client.
You may find this one as odd as it barely carries a user interface. The software is simple to use and is light in weight. With this download torrents efficiently and quickly.
It provides support to various first and third-party plug-ins which provide a more personalized user experience. Moreover, it carries a robust encryption mechanism with which we can locally discover peers and set global and per-torrent bandwidth limits.
Why use this client:
Simple and easy to use.
Light in weight.
Local peer discovery.
It provides support to both first and third-party plug-ins.
Users can set global and bandwidth limits.
TOP PICK: Snipping Tool Download For Windows 11 (Replacement)
BitPort – Cloud-based service
This is great for cloud-based BitTorrent clients.
If you do not wish to install any additional software then this one is designed for you. It is powered by the cloud and solely runs its operation on it. The best thing is that users can get files from its cloud user interface.
On the cloud, the downloaded files are automatically stored and can be easily accessed from any device regardless of the time. Now, to all files stored online, it provides robust security. We can also create custom folders to store our files without any hassle.
Why use this client:
The user interface is clean and cloud-based.
Torrent files and managed easily.
Files are stored in a secured manner.
Find and add torrent files with ease.
uTorrent – The most stable choice
This is great for quick torrent download and management.
Without any doubt, this one is its premiere client and was introduced back in 2005. It carries many features including UI design and BitTorrent.
If you have been using BitTorrent then you would know how this works. With its advanced search engine, you can torrent to download. On this you can set a cap on download and upload limits, limits can be set of the bandwidth usage, schedule various files for download at the same time.
It carries minimal adware though we can eliminate all this by upgrading to the paid version.
Why use this client:
Built-in search engine.
Download scheduler.
Simple to use user interface.
Bandwidth limits can be set.
Tixati – Lightning-fast peers
This is great for ultra-fast p2p torrent downloading.
This one comes in free and is easy to use. The thing is that it carries no ads or any kind of malware. It carries many features like a super-efficient peer selection system which makes sure good spending while downloading a torrent file. It is compatible with Linux and Windows only.
Moreover, it also features PEX, DHT, as magnet link support for the best user experience. When using this one can get benefits from its RSS feed support, IP filtering, and event schedule. On this again we can set bandwidth limits as well as set caps on upload and download limits.
Why use this client:
Basic user interface.
Adware or spyware free.
Complete Bandwidth management.
DHT, PEX and magnet link support.
BiglyBt – 100% open-source
This is great for open-source BitTorrent clients.
This is another option on the list which comes in free without any ads. It has the best features to cope up with our downloading experience. With this, we get many customer preferences as well as setting options in order to personalize our experience.
It also supports integration with first and third-party plug-ins. Moreover, with this schedule your download, set limits for bandwidth, filter search results as well as important information regarding the file which has been downloaded.
Why use this client:
Comes in free.
Open-source.
Ads free.
Third-party plug-in support.
Many custom setting options.
This is great for the BitTorrent clients which come with a cross-platform back end.
Now you would find this one to be unique as it carries a variety of user interfaces with a cross-platform back-end. It comes free without any ads. This is quite a smart tool that can set you up and run with advanced configurations by setting its default to the "just work" option.
The best thing about this one is that it allows blocking bad peers along with keeping a list of them for future reference. It has many advanced features; transmission facilitates encryption, peer exchange, magnet link, setting global and per torrent speed limit DHT, web seed support and a lot more.
Why use this client:
Comes in free.
Open-source.
Ads free.
Easy OS integration.
We can set global and per-torrent speed limits.
This one is great for streaming torrents, period!
This is a different option on the list and despite downloading torrents it has more of its focus on streaming them. For now, it is in beta mode still it captures them whether it is movies, music, e-book or playing them without the need to download them.
Moreover, it is used to connect with peers from other clients like transmission, uTorrent and much more. It has to go a long way to reach its best. It integrates with Mac, Windows and Ubuntu OS.
Why use this client:
Peer exchange.
Comes in free.
Without downloads, you can stream on the go.
Integration with different operating systems.
ALSO CHECK: Is Goojara down? See what happened to it and visit similar sites.
Torrent Client Quick FAQs
What are torrent clients, really?
This is software with which we can download files big in size by using a peer-to-peer system. It helps users find files for download, capture them, and help manage them in one place.
Do these involve any illegal activity?
These are legal to use when downloading huge files that are not protected by copyright law or affiliated with pirated content in any way. We recommend using a free PC VPN for such activities so your ISP cannot track you.
Why do these use P2P networks?
This refers to a swarm of users who share pieces of file data online with one another. The swarm carries leeches and seeds. This is why sites such as 1337x proxy lists are thriving as they are supported by community users like you.
What do Seeds and Leeches have to do with torrent software?
Seed means that someone has downloaded the file already and allows other users to download from them whereas leech refers to someone who only possesses a section of the file and needs to download from the seeder to have access to the full version. Both of these together determine file download speed.
Do these carry harmful computer viruses?
Now, this only acts as a mediator and does not possess any virus within itself. But if the file being downloaded has any virus can affect our device.
Final Conclusion: Which Torrent Downloader do you trust?
Torrenting has been around for over a decade now. It has made p2p networks very popular and secure over time. We have put together a list of the 10 best free torrent clients for Windows 11 that you can free download and install. These are all very fast and stable and will let you use your bandwidth and get your hands on new movies, TV shows, software and games.