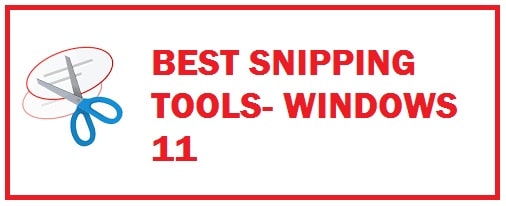 This was included in the experience pack before the Windows Vista for XP tablet PC edition 2005. Originally this was released as a PowerToy for Microsoft tablet PC back in 2002. After this, in version 10 a new application called Snip and Sketch was introduced. This was initially a component of Windows Ink Workspace. Now we have put together a list of best snipping tools for Windows 11 that are free to install.
In recent times Microsoft released insider build 21354 through which the tool was updateable from its store. In the new Microsoft version 11 both Snip and Sketch, as well as the legacy version, were merged in the form of an updated version that carries the same interface as the legacy snipping tool.
Why use third-party snipping tools
Easy means to convey information that is not communicated via text.
It makes the learning experience easy for others as we only need to take a snap.
Best for teachers to make tutorials.
With this content creators create viral content like memes or short videos.
These come packed with quick yet easy editors.
To an image, we can also add text, graphics and even voiceovers.
How to choose the correct snipping tool (5 Tips)
When you select one make sure that it is able to capture various types of images and sizes. There are many free programs that are able to click pictures but with editors, there are chances these are more useful than legacy operating system's in-built tool.
Make sure it performs basic editing like cut, watermark work and blur.
Get one that has text overlay so that the creative process becomes easy.
It must be easy to use.
Must have an intuitive user interface design.
7 Best Free Snipping Tools for Windows 11

It is flexible and carries precisions for all snaps. It is a fast and to-the-point tool for Windows. With this, we can edit images and add arrows, numbers, graphics and much more so that our snaps turn out to be presentable and user-friendly.
What makes it different:
We can save the final snaps into cloud space which can be mailed to friends with the required optimization.
Images snapped adopt display settings for better results.
Videos can be edited live and different graphics can be inserted in between.
ALSO CHECK: Best Remote Desktop Apps for Windows 11.
TweakShot – Simple yet reliable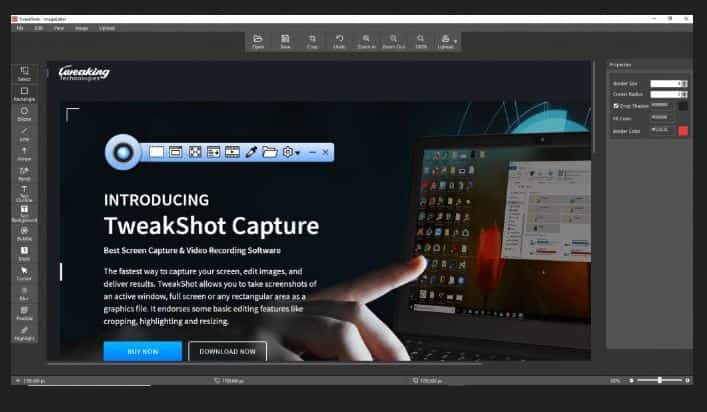 This is a good option for Windows 11 and provides users with many options like it is able to capture single windows, a region, or even a full screen. Moreover, we can also scroll screenshots of the entire page without any hassle alongside video capture.
What makes it different:
Edit cropped images with built-in options.
This is a powerful color picker tool to get the tiniest detail.
It carries settings such as auto-saving capture, collapsing the windows and much more.
ShareX – Editing screenshots on the go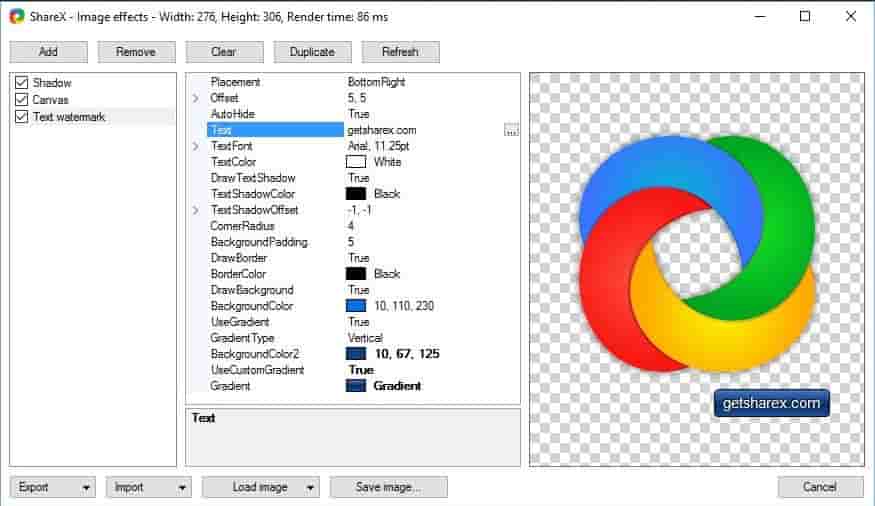 It welcomes users with a colorful logo. This one is open-source software that does not only take screenshots but also works great with videos, can edit files, add in effects and a lot more. The best thing is all this comes in free.
What makes it different:
This one acts like a color picker, DNS charger, image combiner, directory indexer and a lot more.
It opens up files in the image editor where we are able to perform different actions.
It comes with different methods such as custom region, text capture, auto-capture and much more.
ALSO CHECK: Free Alternatives to Windows Photo Viewer.
Pickpick – Great alternative to the built-in option
If you want a tool that can download then this is your go-to software. With this one can take specified screenshots, click the entire screen, and grab the screen while scrolling down. After all this, we can also add in different effects such as frames, shadows, motion, watermarks brightness, blur and much more as required. It also carries different features like a protractor, pixel ruler, magnifier, crosshair and much more for windows.
What makes it different:
Carries different customizable settings such as renaming files or modifying hotkey.
The screenshots can be shared via email and cloud services such as Google Drive, Dropbox and much more.
We can highlight the captured images with the help of arrows, shapes and many other annotating tools.
ALSO CHECK: Windows 11 Audio Enhancers and Equalizers.
Greenshot – Packed with features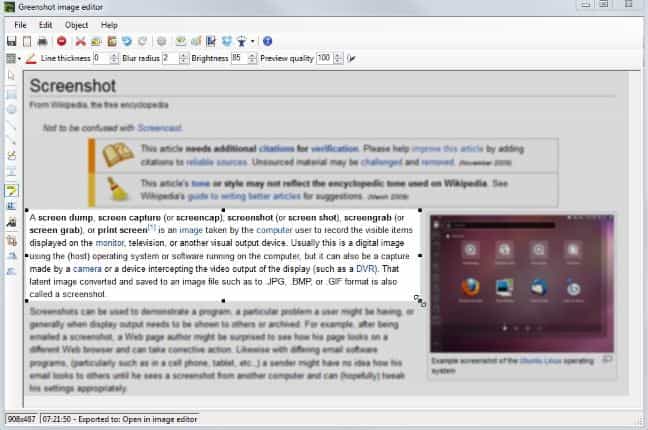 This one comes in free and in a good way takes care of our snipping and editing requirements. The user is given the choice to select a certain area, active windows or even the full screen.
What makes it different:
We can highlight part of the screenshot.
Files can be exported in different formats such as sent to the printer, attach email, copy to clipboard and much more.
ALSO CHECK: Free Software To Make More Space on Windows 11.
LightShot – The choice for everyone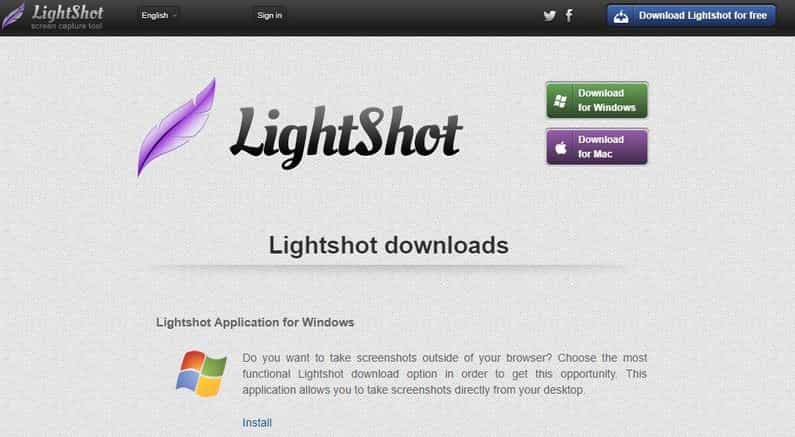 This one has a lot of popularity among users. It is quite easy to install on the system and carries an easy interface. As we hit "print screen" on the keyboard it begins swiftly. Moreover, we can set hotkey ourselves in order to print the screen for convenience.
What makes it different:
We can snip any region or the entire screen and these can be tracked after signing up.
Customize output file format.
With a dedicated editing tool, we can edit all the snaps.
RECOMMENDED: Hide Mouse Cursor when Idle with Hotkey.
DuckCapture – Fully versatile
Get this one to enjoy a full-fledged solution to grab screenshots on the system. With this users can take window-based screenshots, region-based shots and scroll screenshots. With help of a built-in editor, we can edit them as well.
What makes it different:
With DuckCapture refine capture with annotation.
Carries a simple yet effective interface.
It has various options such as saving a file, copying it to a clipboard and even printing it.
ALSO CHECK: How To Keep Drivers Updated with free utilities.
Snipping Tool Software Important FAQs
Do we have a default snipping tool in Windows 11?
Yes, we can access this by going to start and searching for a snipping tool.
Can you create a quick access shortcut?
Once you have opened this we have different shortcuts. Alt+M: Choose snipping mode. Alt+N: New snip mode in the same mode. Shift+Arrow keys: Move the cursor to select the rectangular area. Alt+D: Delay the capture by 1-5 seconds. Ctrl+C: Copy to clipboard.
Does a free snipping tool come with Windows 11?
Yes, it is a lot handy with the installation of Windows.
Final Verdict
Snipping tools are very helpful in every shape and form. This is because they help us in very short situations while at work, school, or home to take a screenshot with a press of a button. We have put together 7 best free snipping tools for Windows 11 that you can download. Our verdict and choice is LightShot because of its cloud uploading capability that allows you to share the link with anyone to view securely.