We all have hidden capabilities and talents within us. Some of us love to draw, become an artist, and share our imagination with the world. There are various apps that can help you do this and one of the top-rated ones in Procreate has:
Exhaust set of brushes.
Advanced layer blending.
Great filters.
100 undo and redo strokes.
Auto-saving while drawing and much more.
Now, why do you need the best Procreate alternative for Windows 10/11 and Android that is free? There are two problems with the original one sadly:
The first is that it is a paid application that has a one-time cost of $9.99 plus with no trial phase.
Though the company does offer a less powerful version for iPhone.
Let's start!
Best 9 Procreate Alternatives for Windows 10, Windows 11 and Android (2022 Picks)
ArtRage – Designed for Artists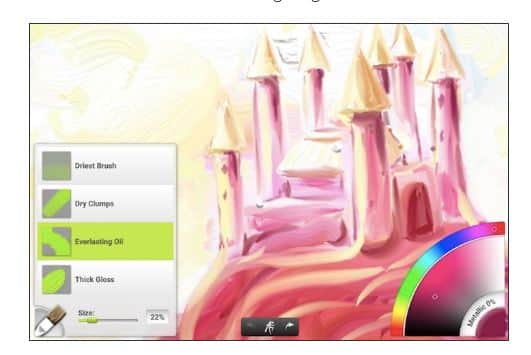 This one is great for artists who love to draw oil painting watercolor. The best thing about this one is that with this you can mimic real paint naturally. It even allows users to mix colors like they do with real paint. It has many other features to keep a track of wetness, thickness, and lighting direction.
The Positives:
It is a natural experience of using digital mediums to create art.
Carries an intuitive interface.
The Negatives:
It lacks advanced tools.
Quite sluggish occasionally.
Upgrading will cost you.
It is available for Android, iPad, iOS, macOS, and windows. Its price is $79.
Download ArtRage for Windows/Android
Autodesk SketchBook – By Professionals
It is best for professionals who require advanced tools. This is a renowned name for designing and modeling software suites. It is well known for AutoCAD solutions; this is a platform that has changed the face of renowned industries.
It features a pen-friendly interface just like it. Users can use colors, brushes, mirror images as well as draw from other factors as well. Some other options include the ability to store pictures and progress automatically. Unlike procreate which carries 128 brushes, each with 50 customizable settings for every brush, this one does not have too many brushes and is small in size as well.
Interoperability is quite expressive as it allows users to export images into various formats including PSD. Moreover, users can also select the resolution of images and also get the option of a pen. It is able to detect false handy pressure allowing users to sketch quite easily.
The Positives:
This one is a fully-featured version which is now free.
An exhaustive collection of professional tools at your service.
The Negatives:
The learning curve is steep as compared to it.
It requires users to be familiar with the desktop version of it.
Download Autodesk SketchBook for Windows/Android
READ: The Best Apps to Monitor CPU and GPU Temperature in Windows 10/11.
Krita – An open-source app
This one is best for all the artists who are looking for a free, open-source alternative or digital painting. It offers a natural sketching experience to its users. Moreover, provides users with comic, texture, and default brushes that should be more than enough for creating any sort of art.
It allows you to customize the brush when needed. It carries a color wheel as well as an integrated reference panel. As it is open-source, developers are able to have lent an ear to the community and have been quite swift when it comes to adding new features.
The Positives:
It focuses on quintessential.
PSD editing is supported.
Open-source.
It is tailor-made for artists.
The Negatives:
Carries an interface that lacks intuitiveness.
At times it lags.
Does not support android.
Download Krita for Windows 10/11
Adobe Photoshop Sketch
This is great for all the artists out there who love to use similar brush features. It was designed primarily with the purpose to create digital art, unlike Photoshop which is much more like a do-it tool. If you like the brush features it carries then you would love to use this even more. The best thing about this one is that you do not need to know Photoshop to use it.
Another great thing about this application is the seamless adobe product integration. Like with this users are able to import all the brushes they have used in it or export artwork to it and Lightroom. This is a vector-based program due to which the result files are smaller in size thus making it easier to share.
This is one of the best alternatives available in the market.
The Positives:
Carries some accurate tools.
Well-designed UI and UX.
It has more than 14 different brushes to choose from.
The Negatives:
It is not available for windows.
Lacks image editing tools.
Scarce third-party applications or plug-ins.
READ: Top 18 Typing Tutor Apps for Windows 10/11 (New Picks).
Concepts – The finest sketching tools
This is a vector drawing application which means that it is much suited for precision measurement drawing other than freehand sketches. In this also you have to access to brushed, layout and much more.
One thing which makes it stand different is the variety of payment options it carries. It lets you purchase various tools as upgrades. It also has a free version which lets you have a handful of brushes and layers. Users can get an essential pack for one time worth $9.99 or everything for $4.99 per month.
The Positives:
Carries an infinite canvas.
Flexible add-ons.
The Negatives:
Carries a steep learning curve.
Tayasui Sketches
This is great for all the creative lovers out there who are looking to draw small doodles and simple sketches.
This is yet another good alternative on this list that helps users to draw on tablets and macOS. The cornerstone of it is an array of artists including pens, pencils, erasers as well as brushes. Carries an amazing layout that deserves special attention. Other features include a filling transfer function which helps all the users fill based on the created pattern. Moreover, it helps users to create overlapping effects without the need to separate colors.
Keep in mind that it carries a free version that feels inadequate for all the sketching needs and if you are a pro then it is better to get the pro version. The best thing is that you can try this version free for like an hour and this should help you make up your mind about getting it or not.
The Positives:
It is quite functional.
It is clutter-free.
Not too expensive.
The Negatives:
Carries limited brushes.
Users cannot change the size of the canvas.
Only in the pro-version layers are offered.
READ ALSO: Find Duplicate Photos with these photo cleaner apps.
Corel Painter – Unleash your Creativity
This is one of the best drawing and painting tools and the best alternative. This is used to reproduce the effects that we see in the world in digital form. It carries various brushes, tools, and textures from which you can choose. It also carries options for colors like water paint, oil paint, and much more to give your different options.
It carries a user interface that can be customized. This is quite cool as with this you can remove options that are not needed.
The Positives:
It carries hundreds of brushes.
Variety of tools.
Customizable user interface.
Carries different types of paints.
Download Corel Painter for Windows/Android
READ: The Best Apps to Rename Files and Folders in Bulk on Windows.
PaintTool SAI – Great for Beginners
Now not all of us are interested in drawing and sketching, some of us also want to fill creations with colors. This is a drawing and painting tool that comes with a bland yet easy-to-use user interface. It has plenty of tools which are useful. It was developed by a Japanese developer and yes it supports manga and anime.
The best thing about this one is that it is more suitable for beginners who are getting their feet wet and looking for ways to learn.
The Positives:
It is beginner-friendly.
Quite easy to use.
Pressure support.
The Negatives:
Carries limited tools and scope.
Download PaintTool SAI for Windows 10
Adobe Illustrator Draw – Personal Choice
Although this is one of the best alternatives out there still it is one of the less popular applications from the same team which gave users Photoshop and Lightroom. It is built from the ground up for phones and tablets, a drawing tool that makes natural paper or canvas drawing a breeze. Users require an apple pencil or a stylus to get the most out of it to draw.
The Positives:
Carries vector brushes.
Customizable toolbar.
Layers.
Creative cloud.
Connect with Photoshop, Lightroom, and Behance.
Download Adobe Illustrator for Android
READ: Top Note-Taking Software with Stylus-Support for Windows 10.
Closing Statement
I hope you have enjoyed reading about the top 9 best alternatives available for Procreate on Windows and Android. I have specifically chosen those that are "Free", not paid, and are very similar to the original app.
Let me know your thoughts in the comments section below.