As we all know and love Windows 7 and its visual style and look. It has now started to age and does look very boring and old in terms of modern interfaces. This page provides you with the 14 best Windows 7 high-quality themes that have been referenced from various sources including Deviantart.
Let's spice up your desktop!
The 14 Best Windows 7 Themes to Download In 2021
macOS Catalina SkinPack
If Windows 10 is something that you do not like and you want a modern look then try this one out. It brings for you the crisp line and soft aesthetic of macOS to your PC.
The best thing about this one is the icons, designers have made sure that they match perfectly with its version. It also includes the iconic dock which works. Moreover, it also moves the taskbar to the top of the screen that is quite true to its style as well as File Explorer complementing the theme.
With this users can keep the same functions of the current version but with a sleek vibe of macOS.
Do you want to bring modernity to the version 7 installation? Then don't worry, as this one is able to switch out the default version for the latest visual array from Microsoft.
To put everything out this is quite an excellent representation of windows 10. To start with the start menu, file explorer and taskbar carry the same replication. Details between the two OS versions make it quite hard to see which one is which, even down to the system tray icons.
Moreover, it also updates the control panel, icons of the start menu, wallpaper, and much more.
READ ALSO: 17 Best Rainmeter Skins that you should try (Download).
With this, you can strip it back into the blank white scale. It strips it to any color, replacing any icon with the black vector artwork, with suitable matching backgrounds.
Now keep in mind that this shall not suit everyone's taste. It is quite basic, to say the least. However, if you want it to lose some extra colors then this is the best option for you in spite of the currents version integrated black and white themes options which, to be honest, are quite harsh in comparison.
This is yet another minimalistic theme that is able to strip back the OS. Now what it does is use the design elements from macOS and the core of this OS in order to blend a lightweight appearance with some decent functions.
Like the taskbar in this goes to the top of the screen but is made transparent to give the illusion of extra space. In this the icons are small; this is done again to create some extra space. Users shall also find the same dock there at the bottom of the screen in a translucent theme, also tweak to fonts, kerning, icons, file explorer, and much more.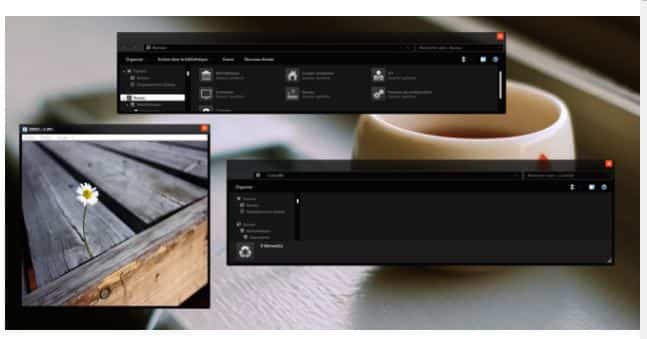 This is one of the best and stylish themes for all the users out there. The best thing about this one is that it comes in both light and dark modes.
It introduces some good changes to the file explorer structure also the custom icons. Users will also find accompanying backgrounds on the linked pages as well.
Now every list of themes requires a dark one, maybe even more than one. This one fits the bill quite nicely. It comes in two different flavors: basic and glass.
The best thing about this one is that it is not pitch black. Its darkness comes in from a nice shade of grey. Moreover, the color of fond is not pure white as well so it does not glare. It carries updated font colors for the menus and other parts of file explorer which helps the theme to blend in seamlessly with it.
READ ALSO: HD and 4K Themes for Windows 10 in 2021.
This one makes some important visual changes to version 7 of Microsoft as it introduces 8 new visual styles to it. It lets users flick through every theme to find the one that best suits them. The styles vary in color, tone as well as direction.
Some visual styles use a contrast of colors in order to help those who have color blindness or any other visual impairments. Others cater to those who are actually looking for a dark theme, using bright highlights in order to give eyes some rest.
It carries borderless versions, support for top, left, and bottom taskbar placements as well as additional fonts.
This is one of the most astonishing collections that are available on the art community platform Deviantart. Now keep in mind that it does not only apply to the desktop but also to icons, folder menus, system, and other sub-sections of folder-like properties. Although it has the name dynamic black it is mostly grey-over-black shades that are blended with a bit of red.
To apply this:
Once you have the setup, you shall see 4 files there in the downloaded folder. In here you would see a folder by the name "theme".
After this, you need to copy the content of these folders and paste them in the folder path – C:\Windows\Resources\Themes. Users can then set the theme there from the personalization settings.
READ ALSO: Top 10 Dark Edition Themes for Windows 10.
ViewIix
This one is for all the users who want to have their system colors intact while they are applying a huge shade of black over them. Now, this one works only on the taskbar, folder backgrounds, some applications supported by Microsoft like VLC Media Player, and some other menus like Start Menu and Control Panel.
However, icons remain intact as they are. Additionally, in a few factors like the control panel you would see shades of blue and green to keep the overall contract a bit in a light tone. In our personal opinion, we recommend it as it is one of the best as it blends originals one with a new black shade, giving you a familiar outcome.
Users have the option to change the entire look into a dark-colored contrast theme. Apply this one without any external links as well as any Patcher application.
To apply this:
In the first step, you need to right-click on "desktop".
After this go to "personalization".
Click on High-Contrast as the preferred theme and change its colors.
Keep in mind that this one is not as visually attractive as the other HD skins.
For all the game lovers out there, this is the best theme they can dream of. Inspired by the video game, it carries fonts, designs as well as wallpapers that will keep your system's interface within the adventures of Isles (the place where it is set). Now, it changes the format of the desktop as well as fonts and folder backgrounds, however, in this change of icons is limited to built-in Microsoft Windows applications.
Alienware Gaming
This one is named after this famous computer manufacture but let's not go there. The idea or aim behind this one is to convert the system's interface to some futuristic machine that is based on some outer space alien technology. It combines jet black color with quite a heavy presence of blue. It offers some of the best yet fine futuristic visuals in the form of wallpapers, icons, and changes there in the folder styles.
A drastic change in the individual interface can be seen in the start-up menu, control panel, and built-in applications. But if in any case, you do not like the color blue then this one is not for you.
READ ALSO: Download Gamers Theme for Windows 10 with Sound and Wallpapers.
Now this one is a bit what we call funky. If you are in love with the music of Daft Punk and if songs, such as Get Lucky and Lose yourself to dance then you are going to love this one. This is mostly a dark theme which is supported by its wallpapers and that helmet-like start button.
The application is used to change the font color over the desktop and folders to some beige shade. The best part about this one is that it remains all transparent throughout the extravagant wallpapers shining in the background.
Death Note
This is a famous mini-release that is based on the Japanese manga of the same name known throughout the globe and has been viewed in many languages. What is better than bringing all this to your computer using this theme suite? Now, it does not have many notifications besides providing users with a Mac-like taskbar there on the desktop, change the start icon.
READ ALSO: A collection of useful desktop widgets for Windows 10.
Closing Statement – Which Windows 7 Theme is your top pick?
So this was our list of the top 14 themes for Windows 7 that have been chosen with extreme care. Most of them have been taken from Deviantart and are of the best quality. Let us know what you think of these and if you have any more in mind.