A bittersweet moment for all the users of Windows 10 was when Microsoft did away with desktop gadgets from Windows 7 and replaced them with Store Apps. As many users had their comfort level with them thus taking them off the system was a big change. They got introduced to Vista and were quite popular with all the further versions. This article focuses on 10 of the best and most beautiful desktop gadgets for Windows 10 that you can free download.
These were taken away as they were making both the system and its content vulnerable. Through this, a hacker can get access to your system. For irreplaceable entities, however, users kept on downloading and using them with the help of third-party vendors.
List of 10 Best Free Windows 10 Gadgets – Make your Desktop Beautiful Again
Gadgets Revived – For Music Lovers
This one gets you all the gadgets that you need and work in more of a pick-your-own-thing fashion. Now what you do is you simply download it and then select the ones that you wish to install.
These things are grouped together in more than 16 categories. Everyone is designed to cater to different kinds of the same one. It carries some crucial ones such as a calculator, MusicRadio, Counters, Timers, and Clipboard Manager.
8GadgetPack – Best Windows 10 Gadget
With this, you can use the most popular yet common applications on Windows 10. For now, it has introduced an advanced version that can take care of many errors and glitches that were reported in the last version.
It was also updated for the anniversary update and many works on them. It carries an App launcher, CPU meter, Drives meter, clipboard, currency, reminder, and many others. Now the ones that you do not like or want can be deleted easily.
Download 8GadgetPack for Windows 10
READ: The Best Free Windows 10 Skins Download (2021 List).
Rainmeter – All you need
This is yet another customization tool for your windows. The best part about this one is that it carries a great number of skins along with an ever-growing collection of various applications that are rolled out by its dedicated community.
With this, you can personalize your windows desktop and access useful information, and keep eye on the performance of the system.
It carries to-do lists, media players, weather information, CPU usage, and many others.
Version 4.3 has been launched recently. It brings instability and improvement in performance. 4.0 is still in the beta version. If you need to be sure that the tool runs best on your PC then you need to install version 3.3.3.
Download Rainmeter for Windows 10
Win10 Widgets – Watch Weather and CPU/RAM Usage Gadget
Now this one is futuristic for many reasons. It caters to all the basic needs like battery, music, wifi, and works on responsiveness as well. It carries provisions for customizing wallpapers or adjusting the size of the screen. Its makers have made sure that it fits in with the theme of Windows 10. One thing that may bug the user is that it does not carry an auto-update function. You need to visit its website and keep tabs on the latest updates.
This is can work on the Rainmeter program and is quite efficient. You can install both in one package. As this one is also a gadget editor thus the user can customize their system with it. The best thing about this one is that it is the most effortlessly designed widgets. From mail to weather to clock all are coordinated according to requirement and if the user wishes to change them then that can be done easily.
Download Win10 Widgets for Windows 10
READ: Taking Notes on Windows 10 is now easy with a Stylus (Guide).
AveDesk – Enhance your look
This one sticks to basics and let you have icons on your desktop screen. Keep in mind that the icons are quite different and advanced as well plus they come in with little plug-ins with are able to multi-task. The desklets act as shortcuts such as mail, calculator, and much more.
For now, its features have been updated which has given it a sleeker and more accomplished look. Moreover, it has worked hard to improve the user experience. Now, if you wish to have a tool for your windows 10 then this one is highly recommended.
Download AveDesk for Windows 10
READ: How to Fix Missing Local Group Policy Editor in Windows 10.
XWidget – Free Windows 10 Gadget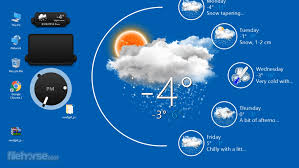 It has gained a lot of popularity among designers and employees in the creative sector. This again is a widget editor which carries pro-level animations. It is quite stable and is quite in demand for its graphics.
It has been applauded in the tech world due to updating its user experience with every edition. This is one of the best alternatives to 8GadgetPack.
Download XWidget for Windows 10
App Launcher
This is one of the most user-friendly tools that work as a launch bar. In this, all you need to do is drag whichever app you want to the screen. The best part about this one is that it can be downloaded all for free plus you can also get it from the chrome store.
Download App Launcher for Windows 10
Network Meter – Monitoring Your Bandwidth and Speed
For the past two years, this has been one of the most widely used tools. It is designed with the purpose to tell users how connectivity issues. It deals with details of your hotspot connection to Ethernet. This is not an ordinary tool and is quite helpful if you are working from off-site. It carries many features but the most prominent is that with this u can keep tabs on your download speed. In recent times it has been updated for high-res visibility.
Download Network Meter for Windows 10
READ: Top Typing Tutor Software to learn how to type faster on PC.
Margu-NotebookInfo2 – HD Windows 10 Gadget
This one comes with a little twist as it is one of the most underrated tools. It lets users keep tabs on several things at once. It shows everything from the battery to your power to your network strength and even RAM usage. It is a serious multi-tasker.
Gadgetarian – Weather Gadget for Windows 10
This lets you bring all your favorite Windows 7 gadgets to the Windows 10 desktop. The best thing about this application is that it is quite light in weight, the installation process is very intuitive as you need to follow the on-screen instructions.
Once the installation is done, do not restart your device for the effects to take place.
Click-right on the desktop in order to enable the context menu and then select the gadgets option to explore what the tool brings in for you.
If you are somehow not satisfied with any tool then you can remove it simply.
It is very easy to add one to your desktop, double click it and it shall appear on the desktop.
Keep in mind that it is used to enable windows native function which does not affect the integrity of the OS.
Download Gadgeterian for Windows 10
READ: The Best Tools that help you calibrate your monitor.
All CPU Meter – Detailed CPU stats Gadget
Another free gadget that you can use to monitor your CPU and RAM usage all in one widget. The uniqueness comes in showing the voltage and temperature of each individual core. For example, If you have a Core i7 processor with 6 Cores and 12 threats, all cores will show their load percentage and temperature. It also shows processor brand logo such as Intel or AMD on the top-left.
Conclusion – Which Gadget are you using?
I personally only use a gadget to monitor my CPU usage and temperature. The sole reason because I have a gaming PC. How about you? Are any of the above 10 best desktop gadgets useful to you? Do let me know which ones are you using that are not in the above list e.g. Music, Weather or Clock ones.